OLD NEWS >> 2009
2009-12-30 Swedish o-coach of the year and winter training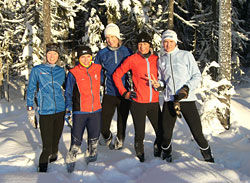 A real winter has finally come to Borlänge with quite a lot of snowing in the last 2 weeks and temperatures between -5 and -20 degrees Celsius most of the time. I am in the middle of my "base" training period which means a lot of "volume training", increasing strength training and in average 2 threshold sessions/week. So far I have been avoiding training with maximal intensity and instead been working on my running economy and general endurance. Unfortunately I have had some problems with twisted ankle since the end of October but now I can finally feel that it does not hurt anymore (more in my online training log).
This winter I am even more eager to run in the forest and snow. Dalarna has some very nice terrain similar to Trondheim and I feel very fortunate to have this training possibility. I have uploaded some maps from my training into my online map archive. However, after the latest snowfall it has become rather tough to run in the knee-deep snow so I plan to do some snowshoe training instead.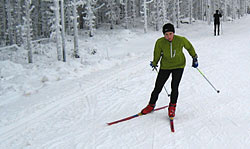 Of course I also practice some cross country skiing, running on roads and on indoor track and some indoor biking. On Mondays I am responsible for a Stora Tuna's and Domnarvet's core strength/stability training which is a great fun (the picture below). Most of my training is done together with some of the girls from my club and/or with Patrik. The first photo above is from our long run 2 days ago (Lena, me, Emma, Karro and Lina).
Some weeks ago I became very glad and also a bit surprised when I received "Swedish O-coach of the year" award. Here is an article in the local newspapers: "Årets tränare jagar VM-medalj" and another one from orientering.se "Eva Jurenikova är Årets tränare". One of the questions I was asked by one of the journalists was whether it was really possible to work as a coach and at the same time be an elite runner aiming for WOC-medals. I have worked for IFK Moras OK since spring 2007 and I am sure that having this job has helped me to reach a new level of my personal sports career. Of course I sometimes have to make compromises in order to be able to combine my work and training and competing but that is normal. Almost all other elite orienteers are in a similar situation. I have been enjoying my work more than any other previous jobs and it has also been pleasure for me to be able to gain a lot of knowledge about training and coaching through "elitränarutbildningen" (elite-coaching study program) for which I was selected by Swedish orienteering federation and which I have been pursuing since beginning 2009. However I do not have any plans for quitting my elite sports career yet. I know that there are still many ways how to improve and to reach my goal of winning an individual WOC-medal.
2009-11-18 Starting the new training year in Tenerife & new map archive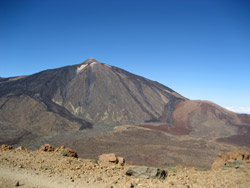 Also the Czech training year started in the beginning of November. I had my "kick off" in Tenerife, Canary Islands. I had never been there before but after some Internet search I got interested in the high mountains and many hiking trails so I convinced Patrik that Tenerife would be a perfect place for our autumn vacation. I know that there are also some orienteering maps on the island but this time I let them be and used only some hiking maps.
Every day we did some long running and sometimes partly hiking in different parts of the island, all together about 15 hours and 6000m climbing. We climbed also up to the top of Teide (3718m), the highest mountain of Spain.
I would definitely recommend Tenerife for a winter training camp. There are many hiking trails in a beautiful and various landscape. You also have a good possibility to do some altitude training. There is one hotel located at about 2100m above see level on the plateau around Teide.
Here are some photos.
I have not written anything here since WOC. Races almost every weekend until middle of October, a lot of traveling, working and some other projects had higher priority. Anyway, I have been keeping record of my everyday training in this online training diary and now I also set up a new online map archive with maps and comments about races and some training.
I have been thinking a lot about my plans and goals for the next year and what more I can do in order to become even better orienteer. Actually I started almost immediately after coming back home from WOC, rather disappointed with my results there, especially how I screwed up the last 1,5km of the long distance final. Now the plan is set up and I am very motivated to prepare as well as I can for the next year's world champs and other important races.
2009-08-17 3rd in LongQ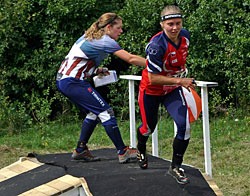 Finally WOC 2009 has started and I had my first race, longQ in the morning today. It was a pretty controlled performance, only some hesitations at a few places. The only stupid thing I did was on the way to the 9th control where I started to run around a wrong hill but I found it out quickly. I did not push myself too hard but I still wanted to get a good result in order to start close to the end in the final. I had a big smile on my lips on the run in. It felt easy to climb the last hill to the finish.
My map from long qualification
Results
Yesterday I set two courses on the old map of today's race as the last theoretical preparation for today. I wanted to have the same length and number of controls as at WOC. So if I was a course setter of the longQ, the courses would look like this:
Women LQ
Men LQ
2009-08-13 To WOC in better shape than ever before
All training and preparations for WOC are done now and I am packing my bags for the trip to Hungary.
2 days ago I had my last hard training - WOC sprint simulation day (qualification and final) here in Borlänge, organized by Kalle Dalin for MartinJ, KarroAH and me. We will all run sprint at WOC. My other distances are long and relay, exactly the same as last year in Czech republic. I am very satisfied with my training of the last 8 weeks; one week in Trondheim with national team, one week in Sälen with Mora, O-Ringen, final training camp in Hungary and also the last training sessions at home with my club mates Emma and Karro. My club Domnarvets GoIF will be represented by 4 runners at WOC (see the photo) and IFK Moras OK where I work as a coach will have 8 runners.
Final camp in Hungary - training maps
Sprint Q
Sprint F
Long
Masstart
I am 30 years old and my shape has never been so good as it is now. I know that if I perform close to my maximum it can be enough for a result in the very top. Anyway, I am not thinking about possible results so much now. I only try to keep the right balance between being relaxed and excited about the coming races.
2009-07-18 Training for WOC but first O-Ringen
In a couple of hours I am leaving Borlänge and traveling to Eksjö to participate in O-Ringen. It will be a great fun to run O-Ringen and a good opportunity to compete against some of the best runners in the world.
However, the main goal of my training of the last weeks were the two coming WOCs, 2009 and 2010. Directly after the World Cup in Oslo, the Czech national team traveled to Trondheim to have its first camp ahead of WOC 2010. Check the maps at the website of our national team.
On Wednesday I came back from Sälen, the area of last year's O-Ringen where I trained together with some runners from Mora. I never stop enjoying orienteering in Sälen. The great terrain, maps and nature make it easy to run a long distance orienteering course every day without getting bored. Another advantage of training in Sälen is that the terrain is hilly which is just perfect for me.
Before these 2 camps I ran the world cup races in Norway where I managed to finish 5th in the long distance race. It has been my best world cup result so far so I was pretty happy about it!
I do not have much time to write any long stories now but if you can read Swedish, you can find more details about my training in my online training diary.
2009-06-06 Czech WOC-selection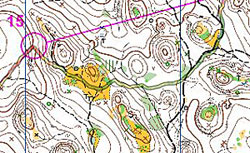 While some of my teammates are fighting on the NOC-long distance in Finland right now, I am at home in Borlänge having some rest after our WOC-selection races in Czech republic, Hungary and Slovakia.
Sprint in Brno, Czech republic (map). Good result but rather poor performance technically with two mistakes 15-20s each. In both cases I lost a bit of my concentration because of other people around me and did not follow my plan. We had two tricky route choices on our course - to the first and fourth control. I did not want to take any risks to the first one and went around with some extra climbing. I think it was a right decision. Actually I am not very fond of this kind of a route choice in sprint, where dense forest is involved. I made also right decision to the control number 4. Runners who went to the left around the hill-top lost at least 20s. I finished 1st (same time as MonikaT).
Middle in Bükk mountains, Hungary (map). Our team was joined by a mapmaker Zdenek Sokolar and he together with our coaches made quite a big improvement of the map used for middle and masstart race. I had no plans for running middle distance at WOC but I still wanted to make a technically good race. I did not do any big mistake but a few smaller. I finished second over 2 minutes behind Dana.
Masstart in Bükk mountains, Hungary (map). First two forked loops and then last part the same course for everybody. Despite studying of the old map before the race and guessing right where the first controls would be I took a wrong route choice to the first control and was about 20s behind already in the beginning. My performance on the second loop was better and I was second, with Vendula just behind me. At the end on the open fields I caught sight of Dana in front of me. I started to think about a possibility of catching her. At that moment I lost some concentration which resulted in a mistake at one of the last controls where also Vendula overtook me. So I finished third. I was not very happy when I reached the finish.
Long distance in Slovakia (map). The most important race for me. I really wanted to make a clear race and get a lot of self confidence from this terrain before WOC. The course had some interesting route choices and a few controls in a semi-open area with partly dense vegetation where many runners lost some time. It was perhaps more technically demanding than it will be at WOC. My tactics before the race was to run rather close to the line and also prefer running over tops of hills (like I did to the 5th control) instead of hill sides. Anyway, I did not always find the best route choice, for example to the second control I ran too much around. I avoided big mistakes all the way until the last control where I lost one minute. Again I think I was a bit disturbed by 2 other runners who were also searching for it at a wrong place. I really have to keep in mind to concentrate on my own performance in coming races. I still won the race by almost 2 minutes.
There are 2,5 months left until WOC and I still have a great possibility to improve a lot of things. The selection races gave me some positive signals, especially uphill running feels better than before. I will run sprint, relay and long at WOC, the same distances as last year but this year I am selected for the relay already now and not one day before the race. I will do some special training to get ready for the program: sprint Q+F in one day, relay, rest day and long final.
Results, splits and maps from Czech WOC-selection races
Czech teams selected for WOC, Euromeeting and WC in Norway
On Monday I am going to Finland to participate in the World cup races and of course Jukola. I have mixed feelings about missing the NOC-long and relay in the beautiful terrain near Salo, but after quite many years of elite orienteering I know rather well how much traveling and competing is good for me.
2009-05-29 Beautiful Dalarna
Right now I am in Brno, Czech republic where the Czech team has its first WOC-selection race this evening. The whole selection block consists of sprint in Czech republic, middle (Sunday) and masstart (Monday) in Hungary and long distance (Wednesday) in Slovakia. I feel well prepared after a lof of good training after Tiomila and also some resting during the last two weeks. More about the selection races on the website of Czech nat. team.
After Tiomila and a lot of traveling during March and April, I was quite happy to be able to spend more time at home and train in Dalarna, the beautiful part of Sweden where I live and work. Quite a few times I have been training together with the orienteering group at Dalarna University where Kalle Dalin, former Swedish national team runner, is a coach. They have at least 3 orienteering sessions every week, check the program.
One of my goals for this season is to become a better runner in "Scandianvian terrain". I have always considered myself to have a better running technique on roads and hard surfaces in general, compared to an avarage elite orienteer. This season I have done more orienteering training and more "terrain" running than during the previous years and I really feel much more comfortable running even in a very stony a marshy terrain. At the same time I try not lose any of my running capacity on roads and paths so I also train on an athletic track once a week together with Mora-orienteers.
My maps from races and selected training after Tiomila
(comments about them are in my training diary in Swedish):
Races
Elitserien long Finspång (Tiomila next year will be held in Finspång)
Middle Finspång
Middle in Horndal, Dalarna
Elitserien long in Gävle
Elitserien middle in Sandviken
Middle distance in Säter, Dalarna
Sprint in Säter, Dalarna
Ultralong distance in Gyllbergen - "Norwegian" terrain 20km from Borlänge
Training in Dalarna
Kniva middle
Long run on old "church" paths near Nyhammar
Long run on paths near Bäsna
Orienteering training in Mora with maps
2009-04-21 Tiomila - "only" 2nd place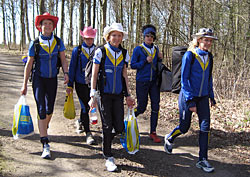 2nd place is very good but it is difficult to feel completely satisfied, neither with the result nor with my own performance. A lot has been written about how the race developed so I will only write little bit about how I felt and ran. On Friday afternoon, one day before Tiomila, all our first team runners participated in the elite series sprint in Helsingborg. I was not sure whether it was the best way to prepare for Tiomila but I also wanted to use the opportunity to run a forest sprint as I might run sprint at WOC. Unfortunately I did not have a good run, took some bad route choices and did not feel strong physically. I finished 21st, about 2 minutes behind Signe. I had been sick a few days during the previous week and I could see that my maximum heart rate was still higher than normally. So my self-confidence was a bit down and I had to work hard to find the right feeling before Tiomila. On Saturday morning, before the others got up, I went for a morning jog in Söderåsen national park. I was enjoying the nature and searching for positive Tiomila feelings there for a while. I think it worked well and later, when I was waiting for Dana at the change over, I was already rather sure about my performance. The course on my leg was a bit technical with many controls but it was not forked. I started almost at the same time as Ida from Halden and Sarina from Turun. I had a safe run and missed only very little; the biggest mistake was about 20s at the second control. I came first to the change-over but the other two girls were just behind me so I could feel some disappointment that I did not manage to push harder and run away from them in order to create a bigger start advantage for Lena and Lina. Congratulations to Halden, and especially to Vendula, my teammate from Czech national team who ran the second leg and and got her first Tiomila victory.
Tiomila - map and results
Sprint Helsingborg - map and results
More about Tiomila and our team:
Lena Eliasson's website
Emma Johansson's blog
Article at orientering.se with webTV
Article in Dalarnas Tidningar
2009-04-16 Training on rivals' home ground - IFK Moras OK in Halden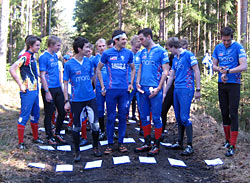 While many clubs spent Easter in southern Sweden, IFK Moras OK went to Halden for a 4-days-long training camp. In my opinion the Tiomila terrain is not very special this year and it is not necessary to spend there many days training. In a long term the runners can profit more from training in the more technical and interesting terrain in Norway.
Our group consisted of over 30 seniors and juniors. Also a few runners from Halden joined us at some of the training sessions. Emil Wingstedt who lives in Halden, held a lecture for us, talking about preparation for important races and he also trained with us during these four days which was really great.
I organized two Tiomila test races, the first one was one-man-relay during daylight and the second one was a normal individual race (rather tough night orienteering for men).
Check the photos from Halden
Our program with maps:
Thursday
Night training
Friday
Pair training
Curves/reduced map training
Saturday
One-man-relay test race: first two forked loops, last loop men, last loop women
Emil Wingstedt's lecture and short strength training
Sunday
Green areas training
Test race with individual start women and men
Monday
Long distance training in Sweden (Map called Ranebo, perhaps one of the nicest orienteering terrains in Sweden)
Before the camp in Halden I spent a few days in Hungary/Slovakia training with our national team. I do not have time to post all maps here but you can find everything on the website of the Czech nat. team. Again the camp was well organized. I got many positive impressions, especially from the long distance terrain and now I have quite a clear picture of what to expect and how to train for it.
The long preparation block with many training camps abroad (Portugal 2x, Italy, Hungary/Slovakia and Halden) is over now and it is time to start to compete. In a few hours I start the travel to Skåne to Tiomila. My club Domnarvets GoIF has probably the best team ever and we are definitely one of the main candidates for victory. I will run the 3rd leg. In the last days I was mostly thinking how to help Mora runners to prepare well for Tiomila but now I will also concentrate on my own club and my own performance. It will be a great weekend.
2009-03-29 Training together with rivals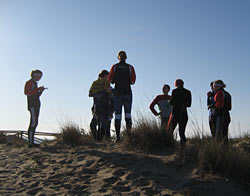 During the previous week the Czech national team had another intensive training camp, this time in Italy. The Czech team was joined by a group called "Mornarvet" (LinaB and EmmaJ from Domnarvet, MartinJ, AlexeiB and JegorK from Mora, and HelenaJ). We had also some common sessions with the Finnish national team and Kalevan Rasti. I believe we can all profit from training together with our rivals.
As usual we did quite much relay/mass start training in high speed. At least for me the whole program was close to the limit of what my body can handle. I was quite impressed by my teammates. It was pretty tough but I have not heard anybody complaining about anything, not even about a half meter of snow at one of the training sessions or fighting bushes full of thorns at another one.
We spent the bigger part of the camp in Vico del Gargano (on Gargano peninsula, at the Adriatic coast) training in interesting karst terrain in the national park Foresta Umbra, similar to the terrains of WOC 2009. We had also a sprint training in the old town where the locals were cheering as if it was a real competition. I really enjoyed the nature and the demanding orienteering on Gargano peninsula apart from one session on the see coast where the green on the map was impossible to get through.
The second part of the camp was spent in Fiuggi, near Subiaco where the world cup finals were held in 2005.
93 photos from the camp
All maps and results at the website of the Czech national team
The training program in English
Some funny videos on Jan Mrazek's blog
IFK Moras blog with two reports from the camp
I am spending this weekend at home while most of my clubmates are competing in Södertälje/Oxelösund. It was rather difficult to make this decision and I really hope that I have not buried my chances to make the first team for Tiomila. I felt that I have to spend some days at home to "charge my batteries". I have been traveling a lot during this winter, not only to all training camps but also to Stockholm and this week to Östersund for elite coach studies which I started in January. Moreover, I also travel to Mora, about 100km from Borlänge, where I work. So the days spent at home are rather easy to count.
2009-03-09 Portugal camp no 2, this time with national team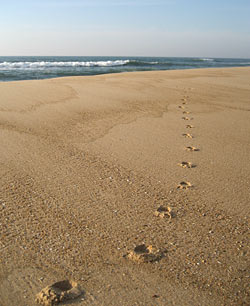 After spending almost the whole last week in Stockholm, attending a communicology course, I am first now writing about our training camp in Portugal February 22-March 1st. It was my first meeting with the Czech national team this year. We started the camp with 3 competition days, Portugal O-meeting, near Evora and continued with 3 days of intensive training in Mira.
The races gave me the first opportunity of this year to compete against some of the best runners. I was happy to see that I am in a good shape and probably also on a little bit higher level compared to the last year.
In Mira we had 6 high quality orienteering sessions, all with SI-time keeping. The main focus was on relay situations. I have to say I appreciate the great work of our national coach Radek Novotny. At this camp he prepared all the training courses, set out most of the controls, calculated results and still had some time to talk to us, runners. I was enjoying the fact that I was not responsible for anything this time, just my own training.
Here is a summary of the week with maps and some comments:
Sunday
POM day 2 (long distance) - It is really good that the Portuguese organizers are not afraid to set a proper long distance course. Our course was 12,5km long. Before the race I thought the terrain would be very fast and orienteering simple. So the first part of the course was a surprise for me and I did some pretty big mistakes losing more than 5 minutes during the first 20 minutes of running. For a while I was considering whether it was worth to push hard during the rest of the course or instead take it easy and save some energy for the rest of the week. I decided to do my best al the way to the finish. I did not pass by any of the two refreshment controls so at the end of the race it was getting tough to run fast without drinking anything in this rather warm weather (almost 20 degrees). Anyway it was a good training for the warm days in Hungary in August. I finished 4th, about 9 min behind Simone. Results.
Monday
POM day 3 (middle distance) - A very fast but still technically demanding terrain suited me well. According to the splits I was in the lead at the 6th control but then I did a small mistake, not being precise in the control circle, and lost about 40s there. I finished 2nd, about 1:15 behind Simone. It was also nice to see that I had pretty good physical feeling despite the long distance on the previous day. Results
Tuesday
POM day 4 (middle/long distance) - The most technical race of POM 2009. Three different butterflies in the most detailed parts of the map required high concentration. I did not do any big mistake, only some hesitations and stops when I was about to loose the contact with the map. The terrain was very beautiful. I finished 2nd, about 1min behind Maja Alm. Results.
The training in Mira:
Wednesday
Traveling and "model event"
Thursday
Starts - 9 short loops with 1-3 controls/loop 0,3-0,6km. Map with all loops
Chasing start with butterflies on reduced map (without yellow and paths) 7,1km
Friday
Relay intervals "rabbits and hunters". Rabbits start about 25s before hunters. 5 short forked courses 0,8-1,9km/course. All forking variants.
"Green hell" sprint - training for extremes 2,2km
Saturday
Middle distance (H21E course from WRE 2008) 4,6km
Relay over path qualification and final - our already traditional training as the last session of the camp. Overspeed. Great fun.
During the camp we also did some sightseeing in Evora (jogging on a sprint map), in a village called Monsaraz (where part of the team went to watch a kind of bull fighting, see this interesting video made by Jan Prochazka). We visited also the monastery of Alcobaca on the way from Evora to Mira.
Summary of the whole camp on the website of Czech national team (maps and results)
Next training camp starts already this weekend. We go to Italy, again with our national team. A couple of Swedish runners are coming together with me from Sweden and also the Finish national team and Kalevan Rasti will train together with us.
2009-02-17 Tr. camp in Finspång and my other winter training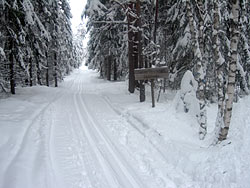 This year the winter in Dalarna where I live has been much colder than what we are used to. Already since Xmas the temperature has been close to -10 degrees most of the time and the snow depth is almost 0,5m at the moment. So the skiing conditions have been perfect but of course it is no so good for training of orienteering. That is why our "barmarksläger" = training camps on a snow-free ground are very valuable for us. During the first weekend in February, about 15 runners from my two clubs Domnarvet and IFK Mora had a training camp in Finspång where Tiomila 2010 and Elitserien in April 2009 will be held. We trained on maps next to the embargoed areas. Couple of years ago I competed and trained in these areas which are embargoed now and I can say that the terrain will be interesting at both races. There is actually an area with a very nice technical terrain pretty close to Grosvad (where Tiomila's arena will be) so I hope that also the courses for women will be challenging in 2010.
This time we were not completely lucky because some snow came only one day before our camp started. Anyway it was still only very little snow on the ground and it did not affect out training too much.
Our training with maps:
Loops (to the east from Tiomila area) - with mass start, I ran three loops
Middle distance (to the west from Elitserien area) - I was following one of the Mora runners
Long distance (to the east from Tiomila area) - together with Lena Eliasson, changing in the lead. I think it is really good exercise to run together with somebody else like this. It increases motivation. We often try to help each other by giving feedback on orienteering technique after and during such training.
This winter I have been training together with other runners more than ever before. In Domnarvet we have a strong group of women. For example on Tuesdays we are 5-10 women training intervals together.
Our long distance training is done mostly on skis now. Because of the amount of snow we can choose from several great skiing areas within 30km radius (Bergebo, Gyllbergen, Lugnet).
During the last days I have done some reading and thinking about long distance training and its effects. There are quite many different theories and it is easy to start to doubt what the most efficient way is. Last year I did not do a lot of distance training (= longer than 75min), especially in the last weeks before WOC when I did mostly a lot of high intensity training. During the long final at WOC I had problems with cramps in my legs even if it was not extremely hot during that day and even if I did everything right when it comes to drinking and eating before and during the race. I still got my best individual WOC result, 8th. I had similar cramp problems at Blodslitet (2 hours of running). After the last season I decided that I would increase the amount of long distance training again.
The main kind of my long distance training has been skiing (both skate and classic) during the recent weeks. I often ski for 1,5-2,5 hours and my average HR is usually at about 74-78% of my HRmax with some peaks close to 90% of my HRmax. So it is not completely slow speed all the time. My HR is usually on similar level also if I run but it also depends on how hilly the terrain is. It is still quite much below my average HR when I compete (85-92% of my HRmax when it is long distance, 91-94% when it is sprint). I often drink only water during this kind of training but I also have something to eat with me in case I start to feel that I am getting close to "hitting the wall". Later in the season I will increase intensity of some of my long distance training sessions. I have almost no training sessions longer than 2,5 hours and/or with average HR below 70%; an exception is jogging for recovery/warm up purpose.
My training diary (in Swedish)
Last season I started to do strength training in a gym for legs + abs + back but I stopped when the competition season started. My goal for this season is to do it regularly throughout the whole year, 1-2 times/week. I am not completely sure if I have chosen right exercises and if I have the right technique but here is a video of my training program (sorry poor video quality). I do also lounges with some weights which are not included in this video. It can be dangerous to do some of these exercises so please advise some expert in case you want to start to do them. I train also core strength at least once a week but then it is without any weights.
On Saturday I travel to Portugal again for a training camp with our national team. 3 races - Portugal O-meeting Day 2-4 in Mora and 6 high-intensity training sessions in Mira are on the program. I am looking forward to it a lot.
2009-02-02 Great training camp in Alto Alentejo, Portugal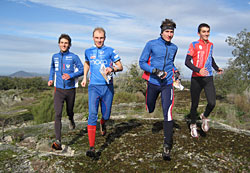 9 orienteering training sessions, 3 races and 1 strength training session is the summary of our training in the week 19-25th January. After considering many options where to go for this year's winter training camp with IFK Moras OK, I decided to choose a training package in Alto Alentejo, arranged by Bruno Nazario. Last year we went to Mira and used another training package from the same organizer. Also this time we have been very happy with the whole camp. The terrain in Alto Alentejo is different compared to the terrain in Mira (at the coast). It is open but the number of various rocky features makes it technically more demanding. Also the accommodation and food were of very high quality so the only thing we could complain about a bit was the weather. The temperature was about 10 degrees and we experienced some rain showers and strong wind but it did not disturb our training at all. The weekend races, NAOM 2009, were well organized. Both I and Michal Smola were considered to be the biggest stars and had to give quite a lot of interviews. I was especially impressed by the prize giving ceremony which took part in a local theatre with most of the participants waiting until the very end. In Sweden, there is almost never this kind of prize giving. Normally after a race almost everybody is in a hurry to go back home as soon as possible.
I would like to say thank you to Bruno who organized it for us and I also want to recommend this training package to other runners.
Our photos (54) from the whole week (click on the photo in the middle to proceed to the next one)
Our training program with maps:
Monday
Morning: Middle distance Vale da Silvana 6,8km - first 10 controls fast, rest as a "model event"
Afternoon: Sprint Castelo de Vide 2,5km - very hilly and tricky course in the beautiful town Castelo de Vide where we stayed during the whole week
Tuesday
Morning: 3 loops Termas da Fadagosa in total 8,6km
Loop A mass start with extra controls for those in the lead
Loop B chasing start
Loop C running in pairs with one map, map memory
Afternoon: Multi-O Arez 9,4km (line, corridor, direction, memory, contours only)
Wednesday
Morning: Sprint 2km and Butterfly run with chasing start 3km Povoa e Meadas
Afternoon: Round map without compass Termas da Fadagosa ca 4km
Evening: Strength training core stability
Thursday
Morning: Sprint Nisa 2,9km - another town sprint, some interesting route choices
Evening: Long distance night-o Arez 12,4km - this was the toughest training of the week, no reflexes at the controls (only flags), rain, detailed map and scale 1:15000. Michal made the whole course, respect...
Friday
Morning: Easy training Vale de Silvana ca 5km
Afternoon: sightseeing in Portalegre and Marvao
Saturday
Morning: NAOM - middle distance Hotel da Lameira
Evening: NAOM - night sprint part 1 and part 2 Alter do Chao
Sunday
Morning: NAOM - long distance Coudelaria Alter Real
There were about 600 participants at those races. The terrain was little bit more runnable but also hilly compared to the training areas. The night sprint consisted of 2 parts, first a normal sprint course in the old town 1:5000 and then the final part in a park with many hedges on a map 1:1000. I had a pretty good run at the middle distance. During the sprint in the evening I felt rather slow both in my legs and my brain and the same could be said about the long distance where I made some small mistakes. Anyway I am happy that I started the season with so good training and 3 good races already in January.
Results NAOM 2009
Interview with me (in Portuguese)
Impressions about the race (also in Portuguese)
Next training camp will be already this weekend in Finspång with both IFK Moras OK and Domnarvets GoIF (Tiomila 2010 relevant terrain) and my next training camp abroad will be again in Portugal in less than three weeks.