ADVENTURE RACING
Adventure racing ("multisport" in Swedish) is a combination of two or more disciplines, including orienteering and navigation, cross-country running, mountain biking, paddling, climbing and related rope skills. Additional disciplines can be horse-back riding, rafting, mountaineering, inlines, swimming etc. An expedition event can span up to ten days while sprints can be completed in a few hours. Adventure racers usually compete in teams (most often 3 men + 1 woman) but also some individual events are held.
A competitive adventure racer is an accomplished runner, mountain biker, paddler and navigator. Adventure race training goes beyond physical preparation; ability to manage lack of sleep, navigation skills, rope knowledge and basic wilderness medicine skills are also vital for competing in long adventure events. An AR-course is similar to an orienteering course; it consists of checkpoints and transition areas where teams can change gear, fill energy and get help from their assistants. Maps used for adventure races are often in scales 1:50 000 and the distance between checkpoints might be several kilometres long. The whole course might cover a length of 400-800 km. Good team work is probably the most crucial aspect of AR.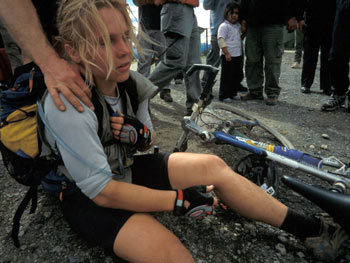 My main sport during 2002-2004 but longest race in 2006
I started to compete in adventure racing in 2002 and it was also my "no1 sport" in 2002-2004. In 2005 I did comeback in orienteering and participated in only one adventure race - City Challenge in Stockholm. In 2006, even if a bit unexpected, I took part in Adventure Racing World Championship for the first time in my life. It was held in August, only 2 weeks after World Orienteering Championship which means that I was a participant in two different world championships in one month. Since 2005 I have been member of Team Haglofs.
My results
2006
Adventure Racing World Championship 13th (Team Haglöfs) Our photos from ARWC 2006
2005
City Challenge 4th (Team Haglöfs) Our photos from City Challenge 2005
2004
Raid Uppsala 2nd (mix)
Gruvbragden 1st (mix)
City Challenge 4th (Team Silva)
Fjällräven Mountain Marathon 2nd (women 70km)
Explore Sweden - pulled out (Team Silva)
Raidseries Morocco 20th (Team Reebok)
Naturguiden 2nd (women)
Patagonia Expedition Race 4th (Team Reebok) Our photos from PER 2004
Stockholm Winter Adventure Race 1st (mix)
2003
Ravinen Litepac PowerBar Rogaine 1st (women)
Raid Uppsala 1st (women) Our photos from Raid Uppsala 2003
Gruvbragden 1st (mix)
City Challenge 7th (Team Gainomax Recovery) Our photos from City Challenge 2003
KFUM Multisport 2nd (mix)
Raidseries Scotland 12th (Team Silva)
2002
Ravinen Litepac PowerBar Rogaine 1st (women)
Raidseries Spain 13th (Team Human Link)
Raidseries Germany/Austria 9th (Team Human Link)
Gruvbragden 1st (mix)
City Challenge 4th (Silva)
Swiss Alpine Marathon 10th (individual 42km)
Raidseries Sweden/Norway 6th (Team Human Link)
---
Home/News - About me - Job/Studies - Photos/Movies - Orienteering - Training - Maps - Links - Contact