OLD NEWS >> May - June 2005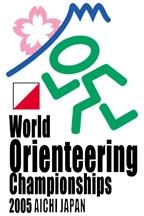 2005-06-22 Preparation for WOC
How should I prepare for WOC? I have never been in Japan before so probably the best way for me would be to go there for a training camp since the terrain and climate are very special. Unfortunately the Czech national team has rather limited resources and a separate training camp before WOC has always been out of question. However, we will come to Japan already one week before the first WOC-race and I hope it will help us understand the orienteering technique, get used to the climate to get over the jet-leg. My training and racing plans are as follows:
During this week and the following two ones a hard training is on my program - many training-hours and a lot of climbing. I am going to train and compete in Sälen (mountains near Norwegian border) where I will participate in Sälen 3+3 (27th of June - 3rd of July). Then I will spend the following week (4th-10th of July) in Norway in mountains - both running and hiking. I plan to go to Jotunheimen (the highest area) and Rondane. I am looking forward to this week a lot since Norway with its mountains is probably the most beautiful place in the world I have ever visited.
Then I will have one week of little training but in higher intensity (11th-17th of July). I will also participate in O-ringen in the Superelite-class (19th-22nd of July in Småland). This year O-ringen is only a 4-days-race for the runners in Superelite with two stages in a terrain similar to Japan. After O-ringen there is only one week left to the departure to WOC. It will be again a week of little training in high intensity. The departure is on 31st of July.
2005-06-20 "Only" 5th at Jukola
Our team Domnarvets GoIF 1 finished 5th in Jukola relay last weekend in Finland. It was a pretty tight fight, especially on the last leg. Our last leg runner Karolina A Höjsgaard was only a few seconds after the third place which went to Stora Tuna IK - another club from Borlänge (which is a town with 50000 inhabitants..). Congratulations!
I am not really satisfied with my run on the second leg (started 10th, came to the change-over as 11th, 19s behind). I did too many mistakes. Not any big ones but I assume I lost over 2 minutes totally. I have been thinking why I did them. I guess that my concentration was just not good enough this time.
Jukola is a rather special race. Over 800 teams started in the women-competition which is actually called Venla and consists of 4 legs. Jukola is a name of the men-competition, has 7 legs and over 1300 teams starting this year. The whole event is huge. It is the biggest orienteering relay event in the world, attracting over 12000 participants. The number of people running in one forest cannot leave it without traces. I ran the 2nd leg which was similar to the first leg. On the great part of the course I could follow paths in the forest, made by the first leg runners. It is tricky and it requires a bit different orienteering technique. You know that it is faster to follow the path and that it will probably lead you to your control. However, there is a risk that you choose a wrong path and end up at a wrong control. I also find the paths disturbing. I usually have a plan how to run to the next control and I am always heading to some "point" (cliff, top of a hill, edge of a marsh etc.). It helps me to concentrate on the map. If I follow a path in a forest made by the runners I have to adjust my plan all the time and it is actually disturbing me, perhaps more that it helps to lead me to my control.
There our both our teams on the picture above. The second team (Karin-Sara-Linn-EvaE) above and the first team (Elin-me-Dana-Karolina) below. Our second team finished 35th as the "best second team".
The official results and maps with courses from all legs (both Jukola and Venla)
More about Jukola in English
Videos from the Finnish TV YLE (mostly in Finnish) Venla-video (all members of our team can be seen there) and Jukola-video.
2005-06-14 Selected for world championship in Japan
I am going to represent Czech national team in the World Orienteering Championships in Japan in August. I won one of the selection races in Hungary last weekend.
I traveled to Hungary on Friday 10th (by plane to Budapest, and a very slow train to Tapolca) and joined the group of Czech runners and organizers in the evening. I arrived too late to participate in the model event but I was informed that the terrain there was pretty bushy. I went only jogging for a while and noted that my legs felt fine.
The first race was a middle distance (on Saturday). On the Friday evening I figured out where the start and finish approximately would be and I tried to set a course on the map I had. When I was jogging to the start on Saturday morning it was clear that my assumption was right. I was not running very fast and I was definitely not afraid to stop and take an extra look at the detailed map. I managed quite well until the second last control. On the way to it, in a "green" and flat area I stopped to check my compass and made the biggest mistake of this year - I lost almost 5 minutes there and even the victory in the race. Dana Brozkova, the best one of the Czech women did not finished the race because of a pain in her back. Results and map.

The long distance on Sunday was supposed to be really long but it turned out to be even longer. I won after 99 minutes of running (the course was 9,5km and 650 m climbing) with 7 minutes down to the second place. Well, I did not mind it to be so long at all even if I got some problems with cramps in my legs. We had 2 refreshment controls only and we were lucky that it was not so warm. I took one Enervit energy tablet with me (attached to my tights) and I really had to use it at the end of the race. My performance was far from perfect. I made a wrong decision about a route choice to the 9th control and lost about 4 minutes there. At the end of the course I lost additional 2 minutes. However, I won and according to the selection criterions I was selected for the WOC. Results and map.
Photos from the selection races (from Jiri Zicha).
The Czech team for WOC 2005 will consist of 4 women, 4 men and 3 officials. More about it on the site of Czech team (in Czech). It is going to be my 3rd world orienteering champions (I participated also in Scotland in 1999 and in Finland in 2001). I will run the long distance and probably also the middle distance and of course I hope to be in the relay team.
Now the tough training period is to come but first I will take part in Jukola this weekend, running the 2nd leg in the first team of Domnarvets GoIF.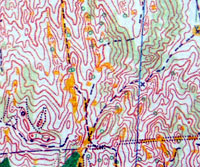 2005-06-06 Less than one week left to the WOC-selection races
Czech national orienteering team has its selection races in Hungary already this week on 11th (middle) and 12th (long distance) of June. Almost one month earlier than for example Swedish and Norwegian team. I am flying to Hungary on Friday (10th).
At the end of the last year I decided to concentrate on orienteering after 3 years when I mainly competed in adventure racing. My goal was to join the Czech national team and to get selected for the World Championship in Japan. Now, a half year later I am convinced that my decision was right. I enjoy orienteering and I am motivated both for competing and training. The selection races this weekend will show whether I succeed. I am looking forward to it and feel confident about the hilly terrain.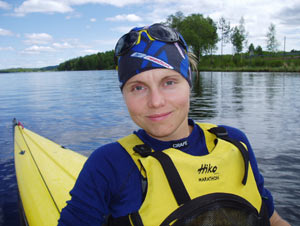 I have a map of the competition area at home ( it is the same area as EOC 2002, see a part of it above). During the remaining days I will spend some time looking at it, setting courses and analyzing route choices. I really like looking at maps (not only orienteering ones but also road maps etc.) and I believe that it is a good way to prepare for o-races. When it comes to the physical training I plan to take it easy and rest a lot. The plan is: interval session tomorrow (short intervals), an orienteering training on Wednesday, rest on Thursday and jogging and some sprints on Friday. After 3 years of various multisport training my legs are still not completely used to running o lot (especially in the high intensity). The training summaries of the members of the Czech national team can be compared at the team's site and I know that I run less than almost all the other women in the national team. I want to increase both the time and quality of the running part of my training but I have to do it slowly. I do a lot of alternative training. Today I have been kayaking instead of running, letting my legs relax a bit.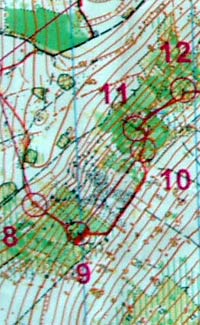 2005-06-01 Warm weather and tough courses at Czech Continental Cup and eye problem afterwards
Last weekend I participated in the Czech national races (Continental Cup) organized in a small mountain village Vojtiskov near Polish border. If I do not count the 3-days competition this Easter it was my first participation in a big race in my home country after 3 years. Those races in Vojtiskov were a bit special because of two reasons. 1. The terrain - it was used for orienteering for the first time. It was extremely hilly and also the navigation was difficult since the map was very detailed. Many of the details were small hills/stone heaps made by people long time ago. 2. The weather conditions - the temperature exceeded 30 degrees Centigrade. I had not experienced such a heat for at least 2 years. However, it was a good training for the world champs in Japan where the temperature is expected to be around 35 degrees Centigrade.
I finished 5th (middle) and 3rd (long) and was a bit disappointed. I lost almost 2 minutes at one control at the middle distance and also did some other smaller mistakes. Moreover my legs felt heavy most probably from a spinning training on Thursday before the races. My orienteering performance on the long distance was better but I was simply running (or walking) too slowly to be able to beat the best Czech o-woman Dana Brozkova who won both on Saturday and Sunday. Results middle (Saturday) and results long (Sunday). And also my map from middle (232KB) and map from long (595KB) distance.
Also two members of the Swedish national team, the world champions Niclas Jonasson and Emil Wingsted took part in those Czech races. They spent the whole week training in the hilly terrain in Czech republic instead of participating in Nordic Championship in Norway. Their aim was to train for World championship in Japan. They were satisfied with the tough and hot conditions.
On Monday after the race it was time to travel back to Sweden. When I woke up I felt that my eye is sore. I remembered that I had scratched it a bit during the race on Sunday when I was running through a thorny bush. I was feeling uneasy on the plane and later on the train to Borlänge since the pain was increasing and I had to keep my hand in front of the eye to protect it from the light. In the evening the eye was so light sensitive that l only wanted to keep my head under a blanket. It was not so difficult to find out what happened. The cornea - eye's outermost layer was scratched and infected. The symptoms are great pain, blurred vision, tearing, redness, and extreme sensitivity to light. Luckily I got an ointment with antibiotics from one friend and now two days later the eye is much better and I can start to train again. I think that this kind of injury must be very common among orienteers. The tricky thing about it is that it takes some time before the infection starts and you realize the problem. I have started to consider wearing glasses during orienteering. The question is how to prevent fogging of the glasses while running in a forest.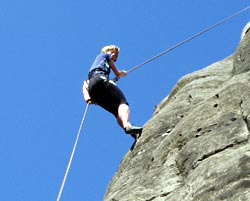 2005-05-26 Training camp with national team
I am updating my site from Ostrava, Czech republic where my parents live. Last week I participated in a training camp with the Czech national team in Trutnov. We trained mostly middle (about 35-40 minutes, many controls and changes of direction) - the distance in which the Czech team usually has least success. The terrain we trained in was one of the most difficult ones in Czech republic. We used Sportident to analyze our training. See the maps and results from the training camp. I have taken some pictures. They are from Adrspach - a natural reserve with sandstone rocks where we were jogging and climbing.
Yesterday I bought a flight ticket to Hungary. Czech team is going to have the selection races for world championship near Sümeg (already on June 11-12). Maps from EOC 2002 are going to be used. The terrain is very hilly and resembles the Japanese terrain quite well.
After long time I have updated my electronic training diary. If you want to know how I train, you can download it from here (excel file, over 350KB, the abbreviations are explained at training).
I almost forgot to mention that I helped my friend Sofia to rebuild here web site. I did it as a final project at a university course in web design which I finished this spring. Check the site at www.sofiareyier.com.
2005-05-19 Going to Czech republic again
I am going to spend 11 days in Czech republic and I am leaving Sweden in a few hours. We have training camp with the national team May 19-22 and national cup - races next weekend (Continental cup in Vojtiskov).
The photo here is from my work - I am teaching orienteering in 4th grade where I work as a sports teacher this month. It is part of a project called Skogsäventyret ("Forest adventure"), The Swedish orienteering federation is the initiator of this project. The world champion Karolina A Höjsgaard works as an ambassador and visits different schools in Sweden. Many of the kids were pretty excited about orienteering. More information an photos on the site of the project www.skogsaventyret.se (in Swedish, article VM-drottning på hemmaplan in Borlänge).
2005- 05-07 My online maps updated
Having some time during these days I managed to update this site with my maps from races and some training in March and April. You can find the links below together with some comments.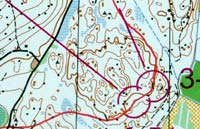 Tiomila 2005-04-23 (Kungsängen) map 191kB,
I was running the 3rd leg. Zuzana came first from the 2nd leg but I managed to stay calm and to do my own race. From the 4th control I was running alone. Not in a very high speed but almost without mistakes apart from some 20s at the second last control. I was nervous later when Karolina was running the last leg, following her fight against Simone Niggli-Luder (Ulricehamns) on the big TV screen. Great feeling to win Tiomila again! (I was in the team which won in 2000.) Domnarvets GoIF this time: Elin Dahlin - Zuzana Macuchova - me - Dana Brozkova - Karolina A Höjsgaard.
Results at www.tiomila.se, some photos and article with webb-tv on www.svt.se (in Swedish).
Articles in Swedish newspapers: Karro fixade guld till Domnarvet (BT), Höjsgaard kunde defilera hem tiomila (Expressen)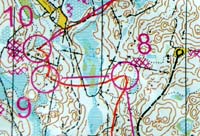 Elitserien long 2005-04-17 (Hässleholm) map 215 kB
Elitserien middle final 2005-04-16 (Hässleholm) map 146 kB
Elitserien middle qual. 2005-04-16 (Hässleholm) map 240 kB
After coming back from the training camp in Czech republic my legs were not in the best shape. I think I was not used to so much running after the winter when I mostly did some xc-skiing. I knew I would not be able to run very fast. I decided not to care about it and focus on orienteering - to run without mistakes. I succeeded well in this effort even if the feeling from running was far from good. I finished 17th (middle) and 19th (long). I liked the terrain in Skåne, southern Sweden (hilly, good visibility, not very Scandinavian) even if some parts of the forest were damaged due to a windstorm in January (the pink areas on the maps).
Results at: www.hassleholmsok.nu/elitserien/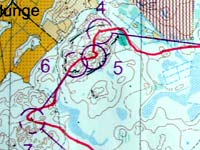 Rånässtafetten 2005-04-10 (near Norrträlje) map 262 kB
My team Domnarvet 2 (Zuzana - EvaE - me on the last leg) finished 4th, less than 1 minute after the first place which went to our first team with double world champion Karolina on the last leg. I was surprised to be in the lead during some parts of the race but at the very end (second last control) Jenny Johansson, Karolina and Simone Niggli-Luder overtook me. However, I gained some self-confidence during this race. I was able to rely on myself and took my own route choices while the others were making mistakes.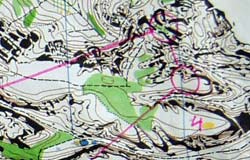 Training camp in Czech republic, 2 weeks (end of March - beg. of April)
I spent the first week with people from my Swedish club Domnarvets GoIF. We were training in the nice sandstone areas near Jicin, visited natural reserve Prachov, participated in Prague Easter 3-days in Doksy and did some sightseeing in Prague. During the second week I visited my parents in Ostrava and also joined the Czech national team at a training camp, also in Doksy.
I am satisfied with my orienteering performance during the stay in Czech republic. I won the 3-days race and also managed to get selected for the national team.
Results from Prague Easter: at www.orienteering.cz/zavody/dkp/pe2005/
Photos from the first week with Domnarvet and from the training camp with national team
The web site of the Czech national team http://repreob.hyperlink.cz/ (in Czech)
Long interview with me (in Czech)
Maps:
Training-race Karolina 2005-04-03 (Doksy) 246 kB
Prague Easter day 3 2005-03-27 (Doksy) 192 kB
Prague Easter day 2 2005-03-26 (Doksy) 251 kB
Prague Easter day 1 2005-03-25 (Doksy) 258 kB
Training Sokolka 2005-03-23 (Czech republic, near Jicin) 328 kB (what is the best route choice 5-6?)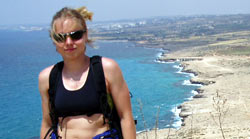 2005-05-06 Back from holidays on Cyprus
I have returned from holidays on Cyprus (an island in the Mediterranean See). Of course, I was not only lying on the beach and celebrating the victory in Tiomila, I was training as well. Probably the best training session was the run to the top of the highest mountain Mt. Olympus 1952m. I managed to burn my skin in the sun already during the second day, when I was running 2,5 hours in the middle of the day, testing how I can stand the heat... The holidays were really nice and helped me to relax after the previous weeks when I was pretty busy at my work. See 26 photos from Cyprus.