OLD NEWS >> July - August 2005
2005-08-28 Pain and mistakes at long distance district championship

I had some doubts about my start at the long distance district championship in Bjursås this Sunday (today). My little toe got worse again after all the running during City Challenge and also some muscles in my left thigh have been painful since the previous weekend. I had not been training running at all this week, only kayak and roller skis once. It seems that the only sport I can train without having pain now it is paddling.
It is possible that some bone in the little toe is broken but I was told that even if it is the case, there is no special treatment so I do not plan to go to see a doctor. Moreover, going to a hospital in Sweden, even it is only a x-ray check up, would be a complicated and time-consuming project. I will probably try to rest some more days now.
During the race I lost a few minutes because of orienteering mistakes. The worse mistake came at the 5th control, a small cliff at the edge of a green area. I would never choose such an object to be a control point if I was a course setter. There were many other small cliffs around, which were not on the map; the boundary of the green area was not distinct and the control itself was hidden that it was visible only from a few meters. The terrain and map were typical for Dalarna - the district where I live. Even If I have been living here for more than six years it is not my favorite terrain and I usually run better in another kind of terrain. The ability to follow a certain direction is decisive here because sometimes controls are placed "in the middle of nowhere" - there are no distinct features around them. Some details might be missing on the maps, or only some of them are there and some others of similar size are left out. The Swedish championship is going to be held in Dalarna in 2 weeks. I do not have any expectations about my results there but I hope to be healthy and ready for fight.
Results
Map
2005-08-22 4th place at City Challenge - my first adventure race this year
In the beginning of this year I decided not to participate in any adventure race before WOC in Japan and to concentrate entirely on orienteering. The reason is that every adventure race longer that a couple of hours makes the body tired for a certain period of time, depending on how long such a race is. I know that it can take about a week to recover from a 1-1,5 day race and a about a month from a long expedition race. But now when the WOC is over, it does not matter if I am tired for a couple of days and cannot train properly. So I did not hesitate when the team Haglöfs, in which Patrik is member, asked me if I could compete with them in City Challenge in Stockholm. I came back home from the Japan-tour on Wednesday early in the morning and already on Thursday evening I and Patrik were on the way to Stockholm with a car and trailer packed with bikes, kayaks, paddles, climbing gear, energy bars and gels, inlines and a lot of other stuff for the race. Since the last day in Japan I had been worried because of a pain in my little toe, but luckily it was almost gone on Friday. Because one of the sections at City Challenge was inlines skating, which I had not trained at all this year, I took a short ride on my inlines on Thursday and luckily I did not have any problems with it.
City Challenge is the biggest urban adventure race in Europe, this year organized for the fifth time. I have participated every year since 2002. The organizers try to find new challenges every year and to make the race exciting for both competitors and spectators. This year the most spectacular section was the jumar-climbing to the top of Globe Arena (see the picture) and rappelling down on the other side. The race is divided into three parts:
The Launching (Prolog), 19.30-21.30 Friday, this year in the amusement part Gröna Lund, 3 sections
Restless Night (Långa Natten), 23.00 Friday -06.00 Saturday, in the area south of the city, mostly in forest, 4 sections
The Day After (Dagen Efter), 07.00-15.30 Saturday, in the city, 10 sections
Every team must have 4 members (at least one women), 3 members are on the course while one is resting. There is a minimum number of sections in which the women has to participate. Every team can have two assistants who transport the gear and the resting competitor, prepare food and drinks and help in the change-over in between every section. To be an assistant at City Challenge is a tough task. Some sections are short and it is not easy to drive in Stockholm.

The first part "Prolog" was almost perfect for us, 2nd place, 2 minutes behind Free Adventure from Finland. It is easy to push too much during the prolog when there are a lot of spectators around the course but we stayed calm and saved some energy for the long night and the day after. I participated in the first (rapell + running) and third section (orienteering) and skipped the second (paddling) section.
During the Restless Night night we did not manage to avoid a few orienteering mistakes (during MTB and orienteering sections). It was more difficult that I expected. We were not allowed to use our usual halogen headlamps which are much stronger than the compulsory LED headlamp from Petzl. I participated in the third (orienteering) and fourth section (inlines) and skipped the first (MTB) and second section (paddling + caving), having a rest for a few hours and even some short sleep in the middle of the night. The 20km-long-inlines-section from the middle of Nacka natural reserve to Karlberg Castle in the city was probably the section I liked most of all this year. After the long night we were still on the second place, 16 minutes behind the Finns.
During the Day After we had unfortunately a few problems. First during the climbing + rapell on Globe Arena, Björn's backup device got stuck twice on the rope on the way down. It took about 10-15 minutes to release it. During this time we were passed by both team Ryska Posten/SATS and Halti. Another "accident" happened during the last paddling section near Kungsholmen. The see was pretty rough there with big waves coming from all directions. Patrik flipped in his fast but not very stable kayak. On the top of that his rudder got broken a few hundred meters further away. We lost another at least 15 minutes. We tried to chase the two Swedish teams ahead of us, got closer, but the course was not long enough. Results (First six teams):
1 Free Adventure FIN 14:39:18
2 Ryska Posten/SATS SWE 15:01:33
3 Halti SWE 15:10:03
4 Team Haglöfs SWE 15:13:47
5 FK Herkules 2 SWE 15:40:11
6 Lundhags Adventure SWE 15:52:33

Complete results (excel file)
It was a great experience to compete with the guys from team Haglöfs, definitely one of the nicest in my adventure racing career. I think non of us is satisfied with the fourth place but on the other hand the motivation to compete in such races is based on much more than only the goal to make a good results. When it comes to my own performance, I am not completely happy about my navigation during the night. The rest was OK. I participated in all running/orienteering sections and the inlines section, and I skipped all paddling and biking. I felt fine until the noon on Saturday. At that time my legs started to be very sore from all the running on asphalt and even my stomach was not in the top shape at the end of the race, but that was not unexpected. Yesterday, I could hardly walk and had pain in my right knee. Today it is a bit better but it will take some more days to recover.
In my opinion this year's race was much better than the previous one. Good maps, interesting course and spectacular climbing section on the Globe Arena. Almost all the best Swedish teams and the best Finnish team were participating in the elite class which made City Challenge to be one of the most important adventure races in Scandinavia this year.

Check this out! Swedish television filmed parts of the race, including the climbing of the Globe Arena. Almost the whole video is about our team - Team Haglöfs, showing Björn's troubles on the rope. Multisport tävling mitt i Stockholm (Media or Real Player required).
In a few days I will put here some photos. For more information about the race, photos etc. go to www.citychallenge.nu (also in English).
2005-08-18 Relay: 5th, back in Sweden, pain in little toe, adventure race City Challenge in Stockholm next
The last WOC race was as usual relay. Our team consisted of Marta Sterbova on the first leg, me on the second one and Dana on the last leg. All of us did a good race almost without mistakes and we finished on the 5th place, only 5 minutes after the winners from Switzerland.
Results
Map relay
Photos relay (Sunday)
Photos rest day (Saturday)
Map long distance final
The final part of the WOC was banquet. I will not write about any details, only about the fact that one of the Czech guys stepped on my left little toe which has been pretty painful since that, making me worried about my participation in the adventure race this weekend. Immediately after the banquet we started the tiring travel back home - through Nagoya, Tokyo, Amsterdam and Prague, where I stayed one day and from where I continued to Stockholm and Borlänge. Today I woke up at 4 a.m. which reminded me about the jet-leg.
I will probably write more about the WOC and analyze my final runs but not now. I am busy packing for my first adventure race this year - City Challenge in Stockholm. We are leaving only in few hours. The race starts tomorrow (Friday) at 19:30 and the first team is expected to come to the finish at about 4 p.m. on Saturday. I will compete with the experienced team Haglöfs (previously Maybe) with Patrik Moris, Björn Lans and Gustaf Hedin. I am looking forward to it a lot. My little toe seems to be much better today and I hope that I will manage to run without using pain-killers.
2005-08-12 Long distance: 13th.
I had a better feeling today in the forest. It seems like I could have fought and pushed me more at the end of the course. Now – 3 hours after the race – I am feeling little bit too fine. I avoided mistakes but I probably did not take the best route choices even if I was convinced in the forest that they were the right ones, except for the one to the 11th control. Many runners ended up running in groups. The 2-minutes-long start interval does not seem to be enough. I was alone most of the time, Simone caught me at the 13th control but there was no chance that I could keep the same pace. I could see her only a few minutes. She is incredible.
I do not really know if I should be satisfied. It would feel better to be among the first 10. I did not have any placing-goals for this WOC and I actually improved my previous results at both the middle distance and long distance, but I am not completely happy now.
The last race is relay on Sunday. It is sure that Dana and I will be in the team. The third girl will be decided soon. I hope to get the second leg. Photos and results.



2005-08-11 Middle distance: 14th.
Even if this fourteenth place is my best individual place ever at WOC (I was 15th in Finland in 2001), I was disappointed when I crossed the finish line. I did only a few mistakes but I lost most of the time by slow running / walking. My body did not work as I hoped it would, and I felt tired from the very beginning of the race. Unfortunately I did not manage to think positively enough during the race. At least I manage to avoid big mistakes. The terrain was nice; the course was little bit more difficult than in the qualification but it was still more physically than technically demanding. There was a route choice to the first control. I did not want to take any risks and climbed about 5 extra contour lines in order to be sure when approaching the control. It must have been a slower alternative then a straighter route. Now I am trying to recover for the long distance tomorrow which is my favourite discipline. I start at 10:12 Japanese time. Photos, results and map.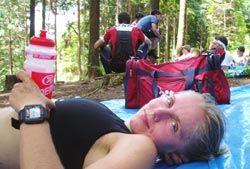 2005-08-09 No problems to make the final
If I remember right it has never happened that I would not make the final at world champs or world cup. I know that I have to do a really bad race not to qualify. My tactics for both the middle and long distance qualification in Japan was us usual - to run carefully, not to push on maximum level and save some energy for the other races later on. On the other hand I know that in this terrain it can be a big advantage to start at the end of the start field in the final so I cannot say that I just jogged along the course.
Middle distance qualification
I felt nervous before the middle distance qualification – my first race in Japan. Being nervous is a good sign for me. The body is realizing that something important is coming soon and it helps me to sharpen my concentration. After a few controls I was surprised how easy the course was, both the orienteering difficulty and especially physically. The course setter tried to be nice to us, I thought. There were no route choices and that was pity. However, I did not manage to keep my concentration on a desired level and made one smaller mistake (40-50 s) and one bigger one (1,5 min) at the last and a bit tricky part of the course. I was not satisfied with my run but I was never worried about the place in final. I finished 5th in my heat, though, more then 5 minutes after Simone. Map from middle distance qualification.
Long distance qualification
I felt a bit lazy before my start but when I grabbed the map I found the right feeling and pace. The race was more difficult today; there were some steep hills to climb and one interesting route choice. I had my performance under control all the time; I did not make any mistake; found the right route choice and did not push myself too much. I actually walked most of the time when it was uphill. I finished 3rd in my heat, about one minute after Marianne Andersen. I ran with my water system on my back (with Enervit isotonic drink) and I drank at least five times from it in addition to two refreshments controls. It was right choice to have it with me already during the qualification race. Map from long distance qualification.
Warming up
When I compete in Sweden or in other countries with, for me, a normal climate I usually warm up properly. I start the warming up about 40 minutes before my start, I run at least 2 kilometers, I do some stretching and other exercises and I also run some sprints (50-200 meters) to temporarily increase my heart rate. Here I decided to limit the warming up to some short jogging and stretching. I do not want to start sweating too early and try to save the energy for the race. Some teams (Swedish, Australian, and perhaps some other ones) have used cooling waistcoats which they take off just before entering the start area.
Snakes
Most of the Czech runners have seen a snake in the forest and some of them got a bit scared. I have not been so "lucky" to see any snake here, at least not yet. The snake issue has been discussed frequently. The teams were told at the team officials meeting that only some of the snakes are poisonous and that it has never happened in the Japanese orienteering history that somebody would be stung by a snake.

Acclimatization
Some of the best teams came to Japan already one and half weak before the first race. The reason is the acclimatization. Some of them stayed in the lowlands in a hotel with air-conditioning during the first days. The temperature outside is much higher in the lowlands than here in the mountains. All those teams except for the Norwegians moved up to the mountains (to an accommodation without air-conditioning, located close to the WOC-races). Norwegians are staying somewhere in a hotel in Toyota, which is rather far away from the event centre and most of the races except for the sprint. I prefer our way of acclimatization. We came one week before the first race and we are staying in the mountains all the time in a simple hostel without air-conditioning. On the other hand the climate is much nicer here and is not bothering us anymore. I did not have any problems with the jet-leg although the time difference between Sweden and Japan is 7 hours. We flew to Japan during a night (European time) and arrived in Nagoya at 1 p.m. Japanese time (6 a.m. Central European Time). I decided to stay awake during the whole night on the plane. In the evening after our arrival I did not have any problems to fall asleep (around 9 p.m. Japanese time which is 2 p.m. Central European time) and slept without problems the whole night.
Tough combination: middle distance final on Thursday and long distance on Friday
I am aware of the fact that running the middle distance final on Thursday is definitely not the best activity before the long distance final on Thursday. At least not in this climate which makes us tired much more than we are used to. I and Michal Horacek are the only ones in our team to have this race combination and nobody in our team is running all the races. The long distance is more important for both me and Michal, but should we skip the middle final to stay fresh for the long distance the day after? It is really a question. I have been thinking how much the middle distance would affect my performance on the long distance. How much time would I lose by it? One, two or five minutes? I know that some other runners are hesitating. So far, I have not had any physical problems here and I have not been unusually tired after the training and races. Of course, the feeling I have when I am running in the forest here is not as when I am running at home. But I always remind myself that it is the same or even worse for all the other runners and I do not let any negative thoughts come into my mind. I still have some time to think about skipping the middle final but I feel that I can run well also there so it is almost sure that I will be at the start on Thursday. More pictures.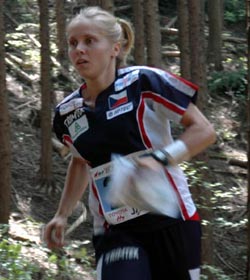 2005-08-08 3th place in the long distance qualification! After leading heat A at checkpoint no 10 out of 14, Eva ended up at third place. This means that she will be running in the final on Friday. Results here and some pictures, taken before the competions were started.

2005-08-07 5th place in middle distance qualification today and Eva is ready for the final on Thursday. Results here. Tomorrow she will compete again, now it is time for long distance qualification. Follow the race online.
2005-08-04 In Japan already
Today it is the forth day of our stay in Japan. We arrived on Monday afternoon, rented cars at the airport and drove to our accommodation in Tsukude High School, which is located only a few kilometers from the event centre. Read about my first impressions here.
Terrain and training
I have already done three training sessions on three different maps. The terrain is more or less as I expected. The most difficult orienteering problem (besides a route choice) is when you are on a top of a hill or ridge and have to run down. It is easy to follow a wrong reentrant/ridge. Such a mistake can cost you a lot. Therefore, it is very important to look at the compass and check the direction before you start to run downhill. The run-ability is not very good all the time. There are trees lying on the ground and often some undervegetation (bamboo ?) so that you do not see where you put your feet. I like the terrain and maps.
Climate
The climate here in mountains is actually not as warm as I expected. At least not yet. I guess the temperature is not exceeding 30 degrees Centigrade. Anyway, you sweat a lot and it is very important to drink regularly. I have decided not rely on the 4 official refreshments controls at the long distance final and I plan to run with a water system (bag) on my back during this race.
The accommodation and food
The Czech team ended up together with a dozen other teams at Tsukude High school where we are staying during the whole championships. It is not far away from the event centre (a few kilometers) and it is located at the edge of the embargoed area for the long distance final. The disadvantage is that it is not very clean. We actually had to clean the rooms before we moved in. The food served here (breakfast and dinner included) is continually improving after a few appeals but I am happy that I brought some cereals and dried food with me from Sweden. What do you expect for 35 EURO/person/day…
The Czech team
We are 9 runners (5 women and 4 men), 2 coaches and 1 physiotherapist/masseur. We are all healthy and the spirit is fine. Besides training and discussing the coming races we have also had a trip to a canyon and we also watch some movies on a notebook in the evenings.
Plans
I am going to take it easy now before the races during the two remaining days. The first race for me is a middle distance qualification on Sunday.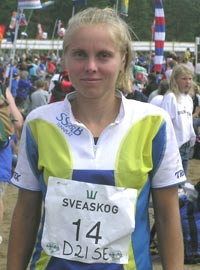 2005-07-28 One day left to departure
Tomorrow I am leaving Sweden and beginning my journey to Japan. I am flying first to Prague where I join the Czech national team and then on Sunday we continue to Nagoya in Japan.
My WOC-program:
Middle distance qualification - Sunday (August 7th), course 3,4km & 200m climbing
Long distance qualification - Monday (August 8th), course 5,2km & 330m climbing
Middle distance final - Thursday (August 11th), course 4,1km & 275m climbing
Long distance final - Friday (August 12th), course 8,8km & 630m climbing
Relay - Sunday (August 14th), course 5,0km & 340m climbing (The relay team will be decided after the long distance final).
I will try to send some reports from Japan to Patrik who will help me to update this site. The official site of WOC is www.woc2005.jp. As long as I know, the organizers are unfortunately not going to have live results or sound/video from the races as it was offered during the WOC in Sweden last year.
The time difference between Sweden and Japan is 7 hours (during summer). Most of the the races will be between 9 and 12 a.m. Japanese time which means between 2 and 5 a.m. CET (during night). Hopefully my body will adjust to the time difference without problems. I have already started to get up earlier... Another necessary adjustment will be to the climate. It is going to be hot (30-35 degrees Centigrade) and very high air humidity (70-95 %). I hope I will cope with the climate well, or at least not worse than the other runners.
I am very happy about my preparations for WOC. I feel that I am in a good shape, perhaps the best ever. My times during different interval sessions have been better that ever before. The terrain in Japan should suit me well. I have always enjoyed running in a hilly terrain and this year I have concentrated on training in such a terrain much more than I used to do. I do not have any goals for placing in the different races. I only want to run as good as I can, do good runs. I am looking forward to going to WOC a lot.
See also a few photos from O-ringen.

2005-07-24 O-ringen: 13th place in D21 Superelite
I am satisfied with my performance on the middle distance (E3) - I finished 8th. However I am not so happy about all the mistakes I did at the long distance (E2) and my concentration problems during the second half of the sprint course (E1). Results and more on www.oringen.com.
I have finally bought a scanner so now you can have a look at my maps from the races of the two previous months. Each map will be opened in a new window. To go back, close the window.
O-ringen E4 long 2005-07-22 (Skillingaryd) 481kB
O-ringen E3 middle part 1 2005-07-21 (Åsa) 134 kB
O-ringen E3 middle part 2 2005-07-21 (Åsa) 121 kB
O-ringen E2 long 2005-07-20 (Åsa) 773kB
O-ringen E1 sprint 2005-07-19 (Värnamo) 257 kB
Sälen 3+3 middle 2005-07-03 (Hemfjällstangen) 404 kB
Sälen 3+3 long 2005-07-02 (Hemfjällstangen) 540 kB
Sälen 3+3 sprint 2005-07-01 (Lindvallen) 248 kB
WOC selection long 2005-06-12 (Hungary, Sümeg) 510 kB
WOC selection middle 2005-06-11 (Hungary, Sümeg) 245 kB
More at maps.
2005-07-18 O-Ringen next
In a few hours I am leaving Borlänge and going to Småland in southern Sweden where I will participate in O-Ringen, in D21SE (Superelite). The first stage is in Värnamo tomorrow afternoon, 2nd and 3rd stage is in Åsa near Jönköping (long and middle distance) and 4th, last one is in Skillingaryd (longer middle distance) on Friday. The whole Swedish and part of the Norwegian WOC-team will take part in O-Ringen this year. The Superelite class's program has been adjusted to fit participants of WOC in Japan and consists of only 4 stages. All other classes started already yesterday.
2005-07-13 Back home after 2 weeks of training in mountains
During the last week I was training in Norway in 2 different areas. The first one was Rondane - beautiful mountains in central Norway and Norway´s first national park with peaks over 2000m. We (I and Patrik) ran up/climbed up to Storronden 2138m, Rondslottet 2178m and Veslesmeden 2015m. On the way to Rondane we also stopped in Lillehammer and spent one night in a tent there - on the olympic stadium for cross-country skiing. The second place was Jotunheimen - the highest mountains in Norway - Here I did something I have never done before. I was skiing on snow in the middle of a summer! On 1400m above see level there is a summer cross-country skiing center, situated near Sognefjellshytta. The track was 6,5 km long, prepared for skating in the morning and classic style in the afternoon. The weather could not be better (sunshine and hot) and even if the wet snow was a bit slower than in winter I was enjoying the skiing a lot. During the last day of our stay in Norway we climbed up to the highest mountain of Norway - Galdhöpiggen 2469m. Perhaps a half of the path to the top was covered with snow and it was easy to run down in it. Running in mountains is my favorite way of training and I really enjoyed the whole stay Norway.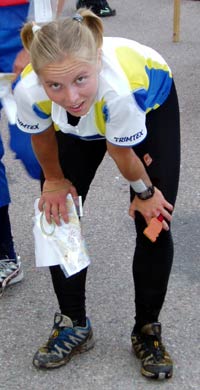 The week before our trip to Norway was also spent in mountains. This time in Sälen where O-ringen is planned to be organized in few years. I concentrated on orienteering training here and I am very satisfied with this week too. I did 5 o-training sessions and 3 races in a nice but demanding mountain terrain. I managed to win the sprint (my first sprint race since 2001) (results) and long distance (results) and was 6th at the middle distance(results). More about the race at www.malungsok.com/3+3/. Newspapers articles in Swedish: "Jurenikova bästa dalkulla" (Dalademokraten) and "Nära trippel för Eva Jurenikova" (Falukuriren). I hope to be able to show maps with my route choices here but I have to buy a scanner first.
Since I was not working during the previous 4 weeks I could train a lot (almost 50 hours), check my training diary (excel-file). The greatest part of my training was running, but I spent quite many hours on my MTB as well. The unusual part was the cross country skiing in Sognefjell. I carried out most of the training sessions in a hilly terrain and I believe that I am a better hill runner as I have ever been before.
I am spending this week at home in Borlänge, taking it easy, swimming in lakes and relaxing in order to recover from the previous weeks. I still have some pain in groins (inner part of thigh) , especially in the right one. It is without doubt from the skiing but I hope it disappears in a few days.
See also the photos from the whole trip (Sälen, Rondane, Jotunheimen).
>> Old news