OLD NEWS >> December 2005
2005-12-25 Maps from ski-o in Idre Fjäll
I have finally convinced Patrik to draw his route choices from Ski-O races in Idre Fjäll, December 10-11th. Here are the maps:
Middle - lap1
Middle - lap2
Night relay - lap 1
Night relay - lap 2
Long - lap 1
Long - lap 2
Long - lap 3
2005-12-19 Cross-country skiing in Harsa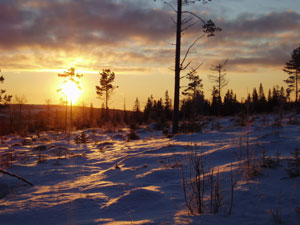 After almost three weeks of very little training I finally could train a bit more last weekend. I went together with Patrik to Harsa for a training camp with people from his adventure racing team. My best training session was the first one - skating on Friday evening without a headlamp in the moonshine. As usual my skiing technique is not the best one in the beginning of the season. Unfortunately there is very little snow in Borlänge now and the only place where to train xc-skiing is 1-km-long track made of artificial snow. See a few photos from Harsa.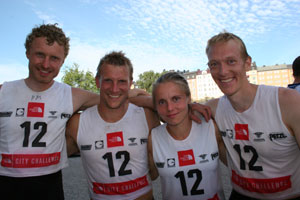 Yesterday we got a disc with photos from City Challenge in Stockholm - the only adventure race I have participated in this year (19-20th of August). There are 113 great photos taken by Anna during the prologue in the amusement park Gröna Lund on Friday evening and also during the day after (Globe Arena and race center near Karlberg Castle). Our team consisted of Björn Lans, Gustaf Hedin Patrik Moris and me. We finished 4th. My report from City Challenge and video from City Challenge (made by Brightlight, Flash Player 8 required).
2005-12-09 Interview with me on www.orienteeringonline.net
Ivan Nagy's site www.orienteeringonline.net has been back online since the beginning of December. Ivan asked me to answer a few questions about my comeback, adventure racing and more. Read the whole interview. Yesterday, I started to train again after sitting at home during the whole week. The first session was strength 30' minutes. I still cough a bit but it is much better now. I was considering to go to Idrefjäll at least for the weekend but I do not want to do the same mistake as I did last week. So I stay at home instead. The skiing conditions in Idrefjäll are perfect now and it would be difficult for me to take it easy and not to train too much...
2005-12-05 I hate to be ill
The cold I caught about a week ago developed into acute bronchitis (infection of the bronchial tree/luftrörskatarr/zanet prudusek) and made me stay at home instead of going for a training camp in Idrefjäll this week. Grrr. I am really upset with myself for the training I did last Thursday. I was silly and trained despite not being completely healthy. And it got worse after it.
When I was small (at the age 3-10), I used to be ill often. Bronchitis was probably the most common illness I used to suffer from. I think that those problems were partly caused by the environment I lived in. I spent the first 18 years of my life in Ostrava, the third largest town in Czech republic which was well know for its heavy industry. 20 years ago the air in the town was heavily polluted, especially during the winter months. The situation is much better now. Many of the factories have been closed down or got filters installed. My parents tried to take me and my brother to a cleaner environment as often as possible. We used to spend almost the whole holidays somewhere in mountains, often in High Tatras in Slovakia. When I grew older most of my health problems disappeared. Actually I am almost never ill now. This bronchitis is an exception and I hope it goes away soon.
I spent the last weekend in front of our computer, working on an assignment in a programming course (Java) which I have been studying this semester. I also watched/listened to a streaming video lecture on sports nutrition and post-exercise recovery which is a part of another course I have been studying this autumn, Sports Medicine. I think my eating and drinking habits are good but after listening to the lecture I realized that there are a few things which I could do better.
Quite often I am too lazy to take something with me to eat and drink during my training. If I bike or train cross-country skiing I have a bottle with me almost every time if the training is longer than 1 hour. But if I run I often drink only a few gulps from Patrik's bottle if he is training with me. And If I have a bottle with me it is often only water in it and not a sports drink. The lecturer's recommendation was to drink 1,6-2,4I/hour during a training in the temperature of 20 degrees Celsius. I know that I manage to train in up to two hours without drinking and/or eating anything during the exercise but it is stupid to do it. The recovery after the training will take much longer time and the effect of the training will be lower.
In order to ensure an effective recovery it is also very important to eat and drink immediately after the exercise (within 2 hours, but the sooner - the better). I think most of the runners are aware of it. For example the Swedish team often has an official handing bananas to their runners directly after coming to the the finish. A banana is rich in carbohydrates but there are better (faster) food items like cornflakes, honey, bread, carrot, raisins, sports drink etc which should be consumed directly after an exercise. Besides carbohydrates, proteins are also important for fast recovery. I think this fact is often forgotten. Patrik's adventure racing team is sponsored by Gainomax Recovery, so we have these drinks at home and often use them after training. Gainomax is rich in both carbohydrates and proteins but a sweet yogurt or milk would do almost the same job.
The lecturer gave us a list of "super-food" items which are rich in vitamins, minerals and other important stuff. They should be consumed at least 4 times a week. Here are the items: broccoli, beans, carrot, spinach, tomato, garlic/onion, orange, blueberry, apple, salmon, soya, tee, walnuts, yogurt, oat, wholemeal bread. We were also told to eat at least 0,5kg (women) and 0,7kg (men) of fruits and vegetables every day. This is not a problem for me, I often eat more fruits and vegetables than the recommended amount.
If you understand Swedish, check this article about Adventure Racing World Championships, published in Dagens Nyheter (One of the leading Swedish newspapers): Fasansfull kamp för självplågare. I don't like the way it is written. After reading it you probably get impression that adventure racers are silly people who only like to torture themselves.
>> Old news