OLD NEWS >> January 2004
2004-01-27 The first race of the year and first victory! Last Saturday I took part in Stockholm Winter Adventure Race - together with one of the guys from my team - Johan Andersson. We won the race (mix class) with a great margin - about 40 minutes - but it was not that clear after the first leg which was 22km skating and a few kilometers running. I had big problems with my skating technique, pain in my back and bad quality of the ice. However, we managed to improve our position during the MTB and orienteering sections and overtook also quite many men-teams. The race was challenging not only physically but it was also quite decisive to choose the right route choices, especially at the MTB-section. Our total time was 5 hours, 54 minutes which was much longer than we expected. Both I and Johan probably didn't eat and drink enough during the race and had some problems with cramps at the end. Anyway, I was great to compete again and I enjoyed it a lot.
Results (from the official race site)
Photos - inclusive the one here are taken by our team photographer Mats Andrén © foto@wombat.to. Mats has also made a cool 14-minutes-long-movie (very big file! 32MB, format .mov - quick time player reqired, don't download it if your Internet connection is slow).
There are also some photos taken by the organizers.
I will scan the maps with our route choices when I get time.
2004-01-21 Last weekend I went to Sälen for a traning camp with my orienteering club (Sälen is located in the nearest mountains, about 2,5 hours driving from Borlänge and it is the starting point of the famous cross-country skiing race Vasaloppet). It was my first proper cross-country skiing training this winter. The conditions were great apart from the fact that the temperature was a bit low. However, this winter I am used to freezing and the cold is not any big problem anymore. Photos from the training camp (on the site of my orienteering club).
I try to take it easy with my training this week, partly because of the race on Saturday 24/1 (SWAR) and also because I feel tired after a lot of training during the last 3 weeks. I also work quite much - at few different primary schools, meeting new pupils, teaching new subjects.... It is quite a challenge for me as well and I learn more than I ever learnt during my studies. But to combine such a job with being en elite sportsman/woman is probably nothing to recommend.
Less than 3 weeks left to our departure to Chile (9/2)! I have been watching some movie clips on Internet and a short documentary on TV about Patagonia and feel pretty excited about the whole race.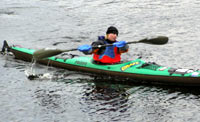 2004-01-12 How to prepare for the Patagonia Expedition Race in the best way is a question I have been asking myself and others during the last few weeks. Here are some exemples of what I have been doing:
¤ kayaking - We suppose that quite a big part of the race will consist of sea-kayaking. It might seen a bit crazy to train it here now - when the temperature is below 0°C - but I am getting used to it and I actually have a great fun with it. I spent almost 5 hours in kayak last weekend, trying to improve my technique. A great help is my new racing paddle which my kind parents bought for me from a Czech company Zastera www.zastera.cz. I am very happy with the paddle. There are some pictures and movie clips from the weekend!
¤ rope activities - practising with jumar ascenders, shut, prusik knot...this time indoor
¤ mountain traing with backpack and poles - running and walking up (and down) to the top of one of the highest and steepest hills here for some hours. Great training for the whole body! Have done it twice so far and plan some more trainings like this.
¤ food - What and how am I going to eat during the race? An example: have müsli in a plastic bag, pour water in it, run with it for a while and you get a great lunch. Well, perhaps not great but if you are hungry....it tastes actually quite OK.
¤ And much more....
Next week (2004-01-24) I will particpate in a short race called Stockholm Winter Adventure Race (SWAR). Ca 60 km totally. The disciplines are ice-skating, orienteering and MTB. I will compete in the mix class together with Johan Andersson from our Team Silva.
If you understand Swedish and want to laugh a bit, read my story from One-eleven (111km-long-inline-race) which I participated in 2002 in Switzerland. I wrote the story for the site of our skating club Stora Tuna IK Skridsko and therefore it is in Swedish.