Back to Glen Affric after 16 years
Posted 2015-07-25
WOC1999 was my first one. I was 20 years old and I got a possibility to run all the distances. This year I am selected for one - the long distance - which is held in the same area as in 1999. It might be my last WOC participation.
Some people have asked me how it was in 1999, what the terrain was like etc. Honestly I do not remember much but I have my map with my routes and results (and also qualification).
More about at WOC99 LD race at WorldofO.
What I remember best from the year 1999 was my move to Scandinavia at the end of August, just a few weeks after the WOC.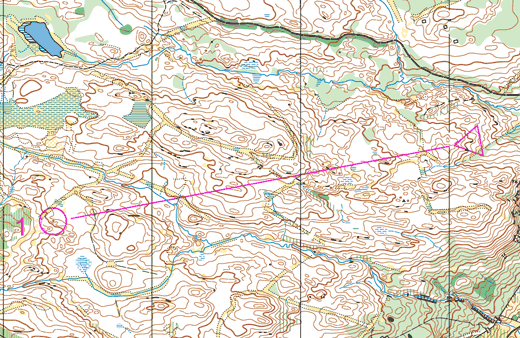 Since 1999 I have competed in all WOC long distances with exception of WOC2003 and WOC2004 (during these years I was missing from elite orienteering and I did some adventure races instead). The best individual result I got in France 2011 (4th) and the best performance I had in Switzerland 2012. Long distance has always been my favourite one. Listen to the O-Ringen podcast interview (in English) which Per Forsberg has done with me, if you are interested in more. 

2 weeks before my WOC race, it is not the right time to reflect over the past years. I only try to use the fact that I will be running in Glen Affric again, as extra motivation.
I have had 2 training camps in Scotland, one with Halden SK last October and another one earlier this month with the Czech team. You can find some of the maps in my DOMA.
After a long period of bad shape I can see some positive signs now. A week in French Alps with long runs in altitude and beautiful surroundings, has been good both for my shape and motivation.

It is a bit difficult to find many relevant training maps in Scotland. A few days ago I had a discussion with our New Zealand runner Lizzie about which maps I would recommend for a team arriving only a few days before the start of the WOC. For the long distance in Glen Affric, I think Achtemarack is the most relevant one. For middle and relay I would choose the map from the British WOC selection races MD Torphantrick, and then Moor of Alvie near Kincraig and perhaps also Loch of Boath and Craig Leach. For sprint Elgin (British WOC selection race), Lossie and Dingvall.

I have been asked what I think about splitting the WOC into urban and forest WOC on alternating years.
It is not easy predict the outcome.
Read the proposal and the open letter against it and make your own opinion.
As I see it, the current situation is not good because the qualification races for MD and LD are gone. I hope that splitting the WOC would make it possible to reintroduce some kind of qualification race(s). As it is now, I think for countries like Portugal or Spain, which only have one spot this year, the effect is negative and it is more difficult to motivate their athletes to commit and try to prepare for the forest disciplines. And I also believe that the removal of the forest qualifications widens the gap between the strongest and richest o-countries and the rest.
I would also like to see the winning time of LD being the same for men and women (by making the women's race longer). Women can (and more and more do) run marathon, participate in ultra races etc and there is no physiological reason for them to run shorter time than men. In my role as a coach I try to encourage other women to run longer, and also to train night-o, in order to develop as orienteers, and also to overcome some psychological barriers. It is about the attitude, not about the "legs". I am happy that the Swedish team/federation started the discussion about the winning time and I am considering to organise a petition to find out more about the opinion of other women. But now before WOC I forbid myself to talk and think any more about o-politics.

I do not want to overdo my "theoretical" preparation for this year's WOC but I do look a bit at the old map of the Glen Affric area. If you want to help me with (or do something extra for your WOC preparation), please look at the legs from Glen Affric (on old map) which I uploaded to WebRoute and draw how you would run.
Thanks!

I hope that you will find the WOC fun and exciting, irrespective of whether you are a participant, a spectator or an organizer.