OLD NEWS >> January - July 2008
2008-07-31 Vacation in Norway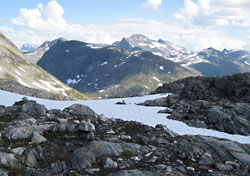 After participating in WOC and working at O-Ringen I knew that it was time for a vacation without orienteering. I am spending this week together with my boyfriend in Sunnmørsalpene, in western Norway. It was quite a long car trip from Borlänge to the Norwegian coast but there was always something to look at - the beautiful Norwegian mountains. Even if it is a vacation for me it does not mean that I stop training. Climbing mountains is one of my favourite activities, so I have already visited a few of them. I have also found an uphill race "Saudehornet rett opp" (with 1300m climbing) here in Ørsta which I am going to participate in on Saturday.
2008-07-24 World Cup Middle
Here you can find the text (with maps and results) which I have written for O-Ringen's website:
WORLD CUP MIDDLE
The last world cup race at O-Ringen was a middle distance in open but detailed terrain on the top of one of the mountains in Sälen. The runners were transported to the start on a ski lift. Anne Margrethe Hausken won with a big margin and secured overall World Cup victory with still two races left. Daniel Hubmann overcame his tiredness from the previous days and won thanks to a technically perfect performance.
Some words from runners:
Daniel Hubmann (1st): I felt tired during the last two days and was not sure if I still could fight for medals here. Anyway I tried to push hard from the beginning and had a perfect race. I like this fast terrain, it was nice to get a victory here. It looks easy but you have to read the map very carefully. I am not sure if I will start tomorrow, I have no chance for the total. I will see how I feel. I have had 10 races in 10 days.
Valentin Novikov (4th): I missed 30s at the first control, otherwise I had a good run. Yesterday my shape was not good at all. I was late to the start and made big mistakes at several places so I just wanted to reach the finish. But after the race in the evening I decided that I would not give up and would fight today. Some of the Russian runners had quite a complicated travel from the WOC in the Czech Republic to Sälen. After the WOC relay on Sunday I was in a hurry and changed my clothes first at the airport. We went via Moscow and Prague to Oslo and from there by bus. I was not fresh at all when I arrived in Sälen on Monday evening.
Jegor Kostylev (12th): I am happy that I finally had technically good performance in a big international race. I made only small mistakes, approx. 30s in total. My tactics for today was to run always straight and read all the details. I am pretty tired, it felt like I could only run downhill today. I have been working here at O-Ringen because I am member of one of the organizing clubs, IFK Moras OK. Last week we were building the tents in the finish areas and on Monday I was collecting garbage for some hours.
Anne Margrethe Hausken (1st): It was fantastic to take the ski lift to the start. I stood for a while there at the top and watched all the people around. I am very motivated to run when it is such terrain even if I have had 9 races in 9 days already before today's middle race. It is no problem to find motivation for the rest of the season either even if I have already won the overall world cup because I feel very strong now and orienteering is so much fun. Today I made a mistake at the 8th control and missed there approximately 1 minute but I also caught Minna there. I still believed that I could win today. I was running very fast and downhill running is my strength.
Ingunn Hultgreen Weltzien (2nd): I feel that I am in good shape. I lost almost 2 minutes at the 6th control. Last Saturday I participated in the Norwegian championships and ran 3000m steeplechase for the first time in my life, my time was 10:24.
Sofie Johansson (4th): I am happy that I managed to avoid any big mistakes today because I am very tired. My goal for this season was to be selected for the World Cup at O-Ringen. I could not imagine that I would get a medal at WOC.
Tatiana Ryabkina (5th): I did not participate in the long distance yesterday because I was too tired. Anyway it was hard to run today. I did not make any mistakes. I cannot imagine how Hausken who ran all the WOC races still can do so well here. I have never been to Sälen before but I really like the terrain. It is partly the reason why I came to the World Cup at O-Ringen.
Results:
WOMEN
1 Anne Margrethe Hausken NOR 37:17
2 Ingunn Hultgreen Weltzien NOR 38:57
3 Angela Wild Schweiz SUI 39:02
4 Sofie Johansson SWE 39:05
5 Tatiana Ryabkina RUS 39:13
6 Bodil Holmström FIN 39:14
7 Liis Johanson EST 39:15
8 Maria Rantala FIN 39:19
9 Camilla Berglund SWE 39:42
10 Lisa Anttila FIN 39:48
MEN
1 Daniel Hubmann SUI 31:38
2 Thierry Gueorgiou FRA 31:41
3 Baptiste Rollier SUI 31:57
4 Valentin Novikov RUS 31:59
5 Dimitriy Tsvetkov RUS 32:48
6 Peter Öberg Sverige SWE 32:56
7 Anders Nordberg NOR 33:00
8 Marc Lauenstein SUI 33:07
9 Audun Weltzien NOR 33:38
10 Pasi Ikonen FIN 33:47
Maps with routes:
Anne Margrethe Hausken
Daniel Hubmann
2008-07-24 Working at O-Ringen
Even if I am not participating in O-Ringen I was also in a hurry to get to Sälen as fast as possible after WOC. My club Domnarvets GoIF is one of the organizing clubs and my task is to write news about World Cup for www.oringen.se. Unfortunately O-Ringen's website has been pretty slow during daytime due to some server capacity problems, which has been frustrating so I am also posting some of the texts I have written here (with links to maps, photos, video), se below.
It is interesting to work in the press tent and question the runners in the finish. I have almost no previous experience as a journalist but I hope that I still can contribute with something interesting.
Yesterday late in the evening I was jogging to the start of today's race and also little bit around in the competition area. It was so peaceful but now the race has already started and plenty of runners are there searching for controls. Most of controls are above the tree line today so I think it will be a special orienteering experience for many competitors.
WORLD CUP LONG
A bit special long distance was prepared for the World Cup runners today in Hundfjället. Approximately the first third of the course was above the tree line and the second butterfly was located in a very detailed area with many re-entrants and spurs. The runners started in pairs with the world cup leaders starting at the end. Everybody had the same course except for two butterflies where the runners starting together ran the loops in different orders. The race was described as tough and technical by many of the competitors.
Words from the runners:
Tero Föhr (1st): I had a perfect race even if I got tired after 60 minutes. It was easy to run together with Matthias Merz. We ran mostly straight. I have been here in Sälen already two times before and I must say that I really like the maps made by Kenneth Kajsajuntti. He is probably the best mapper in Sweden. I would prefer to have the butterflies directly from the start, with longer loops. Sprint and middle have been my favourite distances so far but perhaps I should change my opinion.
Baptiste Rollier (2nd, his first individual world cup medal): I ran most of the course alone. I had an OK race, I did some small mistakes. I felt also little bit tired so I did not expect to get such a good result.
Marc Lauenstein (6th): I think it is unfair to have a pair start. If you start with somebody who is slow, you do not have any advantage of running together. It is OK for a race for fun but perhaps not for a world cup. I would prefer to have long butterflies from the beginning or a mass-start with loops in the detailed area. Anyway, the terrain and the course were great and I really enjoyed it even if the last hill was pretty tough.
Thierry Gueorgiou (9th): I am very tired. It is not a good idea to have the world cup directly after WOC but the terrain and course were good. It was a bit boring to run together, the loops could have been longer.
Anne Margrethe Hausken (1st): I made a small mistake together with Minna Kauppi on the long leg to the second butterfly. We were four runners together at that time and no one was sure exactly where we were. I felt that I was technically a little bit better then Minna this time. It was a different concept with the pair start. I liked the tactical game between Minna and I.
Minna Kauppi (2nd): I was together with Anne Margrethe almost all the way. I assume we were equally strong physically. I made a wrong decision about the route choice after passing the road and Anne Margrethe disappeared. I could still see her on the last uphill but I got stressed and missed the third last control. I do not like the idea of a pair start. It is not fair for the other runners if Anne Margarethe and I can run together from the start.
Results long distance - Wednesday
MEN
1 Tero Föhr FIN 1:29:33
2 Baptiste Rollier SUI 1:31:07
3 Dimitriy Tsvetkov RUS 1:31:45
4 Oeystein Kvaal Oesterboe NOR 1:32:09
5 Mats Troeng Sverige SWE 1:32:47
6 Marc Lauenstein SUI 1:32:51
7 Mats Haldin FIN 1:33:21
8 Pasi Ikonen FIN 1:33:40
9 Thierry Gueorgiou FRA 1:34:55
10 David Schneider SUI 1:35:01
WOMEN
1 Anne Margrethe Hausken NOR 1:12:41
2 Minna Kauppi FIN 1:14:12
3 Ingunn Hultgreen Weltzien NOR 1:15:15
4 Emma Engstrand SWE 1:15:23
5 Sofie Johansson SWE 1:16:34
6 Lina Bäckström SWE 1:18:40
7 Aija Skrastina LAT 1:19:59
8 Lisa Anttila FIN 1:20:28
9 Lea Müller SUI 1:20:42
10 Åsa Hellqvist SWE 1:20:59
Complete results
Split times - men
Split times - women
World cup standings
Photos from the race (O-Ringen - day three with the world cup long)
Maps with routes:
Anne Margrethe Hausken part 1, part 2
Minna Kauppi
Ingunn Hultgreen Weltzien
Tero Föhr part 1, part 2
Baptiste Rollier part 1, part 2
WORLD CUP SPRINT
On Tuesday evening the World Cup runners made their entry at O-Ringen. The first race, WC-event number 9, was a sprint in hilly terrain near Högfjället mountain hotel approximately 800m above sea level. Thousands of spectators could see the runners in action for more than half the course, on a hillside with skiing slopes and a deep gully. Five out of the six best women and men in the overall world cup rankings, the leaders Anne Margrethe Hausken and Daniel Hubmann included, arrived in Sälen on Monday evening, traveling directly from WOC in the Czech Republic. Some of them admitted after the race that it was tough and that their legs were still heavy.
The terrain and courses in the mountain terrain were very different to WOC and EOC sprint which were both held in an urban environment but Anne Margrethe Hausken (Norway) who is World and European sprint champion this year showed that she could master a hilly forest sprint as well, winning the race by 11 seconds ahead of Annika Billstam (Sweden).
In the mens class, Peter Öberg (Sweden) claimed his first world cup victory, ahead of Matthias Merz (Switzerland) and Thierry Georgiou (France).
Some words from the runners:
Anne Margrethe Hausken (1st, current world cup leader): It was a very good run. I had contact with the map all the way. I knew that the course would be mostly on a mountain. It was not a typical sprint, it was more like a middle distance. This year I would like to win the overall world cup. I am looking forward to the next days here in Sälen and I am going to enjoy the terrain very much.
Annika Billstam (2nd, has brons medal from WOC long and relay, is known for being able to run very fast downhill): It was a nice and varied course. I did not do any mistakes. I have not had a focus on sprint in my training this year. I am not afraid when running downhill. When I lived in Uppsala we had a special hilly loop on which to practise.
Emma Johansson (7th, World Cup debut): When I got the chance to run the world cup race I definitely wanted to show my best. I am happy that I managed to do that, I did not do any mistakes. It was an interesting course.
Peter Öberg (1st): It was inspiring to be at the start and see the spectators and hear the speaker. I could feel the adrenaline pumping. This kind of sprint, with many downhill and uphill legs is like running interval training. You can not keep the same speed here as you can do in a town sprint. It was an unbeatable experience for me to run in this mountain environment.
Thierry Gueorgiou (3rd, "king of middle distance", transported to hospital after an allergic reaction to a bee sting at WOC relay): I was frustrated after the WOC relay. I can still feel some pain in my throat. I was very motivated for the World Cup at O-Ringen because of the technical terrain here in Sälen but after the WOC relay I lost my motivation because my body is not working 100%.
Johan Runesson (36th, has three gold medals from JWOC this year): It was a good performance but sprint is actually not my favourite distance. I prefer the long and middle races but the long distance tomorrow is much longer than what I am used to from the junior class. However, my tactics are to start at my normal speed and I will see how far I can get .
Results:
WOMEN
1 Anne Margrethe Hausken NOR 14:16
2 Annika Billstam SWE 14:27
3 Minna Kauppi FIN 14:38
4 Emma Engstrand SWE 14:47
5 Lea Müller SUI 15:00
5 Ingunn Hultgreen Weltzien NOR 15:00
7 Emma Johansson SWE 15:16
8 Marianne Andersen NOR 15:17
9 Signe Soees DEN 15:23
10 Angela Wild SUI 15:26
MEN
1 Peter Öberg SWE 14:21
2 Matthias Merz SUI 14:29
3 Thierry Gueorgiou FRA 14:30
4 Marius Bjugan NOR 14:34
5 Topi Anjala Finland FIN 14:38
6 Oeystein Kvaal Oesterboe NOR 14:50
7 Francois Gonon FRA 14:51
8 Pasi Ikonen FIN 14:55
9 Damien Renard FRA 14:57
10 Audun Weltzien NOR 14:58
Complete results
Split times - men
Split times - women
World cup standings
Video from the race
68 photos from the race
Maps with the routes:
Anne Margrethe Hausken
Annika Billstam
Peter Öberg
Matthias Merz
Thierry Gueorgiou
2008-07-16 Careful orienteering in the long qualification
After the model event and studies of the old map I knew that the long qualification could be rather difficult technically so I did have some respect for the race and decided to be extra careful about my orienteering. I slowed down at some parts of the course and read more details on the map than I usually do. Sometimes I was probably too defensive so I am a bit surprised that I finished 2nd in my heat (C), less than one minute behind Minna but I know that most of the fastest runners were making some mistakes. Again, I am very happy with my performance. The final is in three days and I have a lot of time to recover.
Before the race our team discussed differences between the Czech and the international way of mapping. The Czech mapmakers had to do some adjustments at the maps used for WOC (generalization, using only international map symbols). However the maps used at the public races are still made in the Czech way. Here you compare them:
My map long qualification (international version)
Public race with H21E course in the same area (Czech version)
Results from the long qualification
Photo of me (worldofo.com)
2008-07-14 My best individual WOC-result
Yesterday I did one of my best performances on sprint distance and finished 9th which is my best individual WOC-result. I am very happy because I know that I could not have done it much better. I did well already in the qualification which was not very difficult technically. I finished 6th in my heat, 27s behind Helena Jansson. I did one ca 5s mistake on the way to the 4th control when I started to think about the long route choice to the 5th control but I "woke up" quickly. I felt I did not have to push maximum and saved some energy at the end of the course.
There was rather long break between the qualification and final. We went back to our accommodation, ate lunch, got massage and had some rest in bed before the final in the afternoon. Last year and also in spring I felt that I did not succeed to recover after qualification and had heavy legs in final. Yesterday when I started to warm up for the final my legs felt fine. During the last minutes on the way from pre-start to the start line I managed to stay calm but I had to work hard to concentrate on what I am going to do and not to listen to speaker and people shouting at me. For example I noticed somebody from my family taking photo of me one minute before my start and also some person shouting "wrong route choice" just after I passed the start point... But most of the time my thoughts were focused only on the map and where I was running. I made right decisions about all route choices, perhaps the only tiny mistakes were on the way to the control number 5 (where I should have pressed myself through the green just behind the 4th control) and I had also some small time loss close to the 7th control. It was a very good day for the whole Czech team with two podium places. All of us 6 running sprint finished among 18 best!
My map - qualification
My map - final
Results
Photos of me (from runners.worldofo.com)
Video - the whole sprint final women (Czech TV).
2008-07-09 My 6th WOC
I had to think for a while and count to find out the right number for the heading. WOC in Czech republic will be my 6th WOC after Scotland 1999, Finland 2001, Japan 2005, Denmark 2006 and Ukraine 2007. I am member of the Czech team but can I still call it WOC on a home ground after almost 10 years of living in Sweden? I think I can. I am born in Ostrava, third largest town in Czech republic located about 100km NE from Olomouc. The terrains of WOC are very similar to the terrains in which I started to learn orienteering. This year I have visited Czech republic twice, two weeks in April and 4 days one and half week ago when I participated in the selection races. It is probably less time than many other WOC participants have spent in Czech republic this year but I did not have the same need to investigate the terrains which I am already familiar with. Instead I have done a lot of theoretical preparations at home - setting courses and planning route choices. Of course there is no guarantee that I choose the best routes during the competitions but at least I feel confident about it. Course setting is definitely one of my most favourite activities.
This year I am selected for sprint and long, the distances I have been training for. Already last year it was clear that I cannot run relay if I participate in the long final the day before. In the Czech team only Dana Brozkova and Michal Smola will participate in both. It is stupid that there is no rest day between the long final and relay.
The sprint is already on Sunday. It will be the first time for me to run sprint at WOC. In spring I was hesitating whether I was fast enough but after a good training period of the last two months I think that it has been a right decision. I have been continuously improving my speed and it will be interesting to see how fast I can run on Sunday. Yesterday I did my last hard training session 4*1000m intervals on a track in Mora at the club training which I was responsible for. It is perfect to be able to train and work at the same time. Last Sunday, one week before the WOC sprint, I had a model day for the WOC with qualification and final. I tried to find similar terrain for it here in Borlänge. Emma Engstrand and my club mates were also participating in this training. See map qualification and map final.
Long distance at WOC is my main discipline. I finished 3rd at the Czech/Finnish selection race (see map) after a good race with some smaller mistakes. I hope I can improve my performance at the WOC final and fight all the way so that I can feel that I have done everything I could when I cross the finish line.
I am traveling to Czech republic tomorrow.
2008-06-28 WOC selection races - sprint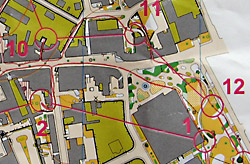 Yesterday I participated in the first selection race for WOC - town sprint in Sumperk. I had an OK race and a good result but after looking at the splits I could see that some of my route choices were not the best ones. See my map. I lost about 15s to the 5th control. The best route choice is drawn as a dashed line. The main street which we passed a few times during the race was full of people and sometimes it was difficult to run in a full speed. It was a good training for Olomouc where the streets will be probably even more crowded. I am happy that I am in a good shape and hope that it can be even better in two weeks. Tomorrow we will run long distance. I am looking forward to a tough hilly course and hope that it will not be too hot.
National team's website with results
My training after Jukola
Su 15/6 short intervals 30s/60s and 20s/40s, tot. 20'
Mo 16/6 intervals 4*4min (3min rest) paths
Tu 17/6 rest day
We 18/6 M: 4*4min (3min rest) athletics track, A: hanging out controls for training Mora
Th 19/6 M: hill intervals 8*ca 1:15 + 8*ca 17s, A: jogging 15min
Fr 20/6 jogging 15min
Sa 21/6 3*12min skiing slope (240m climbing)
Su 22/6 M: sprint course 15min & A: sprint course 15min
Mo 23/6 M: long easy run 90min
Tu 24/6 A: hanging out controls for training in Mora, E: short intervals with Mora 10s/20s, 20s/40s, 30s/60s ca 10min + running drills on a athletics track
We 25/6 jogging 15min
Th 26/6 traveling to Czech republic, jogging 20min
2008-06-16 We have won Venla
Already since year 2000, when we won Tiomila for the first time, we have tried to win Venla (Jukola for women) as well. We knew that we had a chance this year but I do not think that many people considered us as candidates for victory. On Saturday everything worked out just right for all four of us. We made close to flawless performance and crossed the finish line almost 5 minutes ahead of Nydalens SK, who took 2nd place. Our team Domnarvets GoIF consisted of Emma Johansson, Karolina Höjsgaard, me and Dana Brozkova. I was running the third leg and came to the change-over first, almost 2 minutes ahead of Lidingö. It was a great feeling, of course, but I also knew that it was tough for Dana who did not know exactly how big our lead was. However she stayed pretty cool and had an impressive run without mistakes. The scene in which we are running together from the last control towards victory in Jukola or Tiomila is something I am sometimes playing in my imagination when I train. Tiomila dream has become true already twice and now also Jukola. A remarkable thing about this year's two big women relays is that again a team from Borlänge, a town with less than 50000 inhabitants, won. Stora Tuna, winner of Tiomila is also from Borlänge.
Map with my routes from GPS tracking
Results
Radio interview with Karolina (in Swedish)
Last week on Wednesday I prepared a Jukola training in Mora. I tried to find similar terrain with a lot of green. See report with photos from our Jukola training.
What is next?
Yesterday in the morning I started my 10-days-long "interval block" which is my main get-into-a-good-shape weapon. It consists of a combination of 4*4min intervals, very short 20s/40s and 30s/60s intervals and some tempo runs. Of course, part of the training will be done in hilly terrain. On Thursday next week I am going to travel to Czech republic for selection races, I am going to run only sprint (Friday 27/6) and long (Sunday 29/6) and then I will go back to Sweden.
2008-06-09 More from Sälen
Have a look at my maps from today's and yesterday's training in Sälen (both of them are included in the O-Ringen training package). Yesterday I was training at Östfjället/Köarskalsfjället (N of Högfjällshotellet) and today at Hemfjällstangen (ca 10km S of Lindvallen). Controls on the top of mountains, in the open terrain, are not difficult but it is still important to keep direction properly. Orienteering gets immediately more difficult when you start to run down - controls on hillsides in a semi-open area can cause a big time loss if you are not careful enough. That's what happened to me at the control number 4 today. Yesterday my second training session was mountainbike in Rörbäcksnäs on marked trails (see map + description). If you bring your mountainbike to O-Ringen, you shouldn't miss it. I think it is one of the best places for MTB- training in Sweden.
2008-06-07 Training in Sälen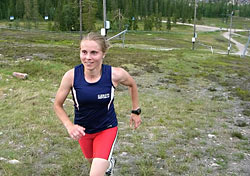 My training plan for the two weeks between EOC and Jukola says "quantity and hills". Right now I am in Sälen (where O-Ringen 2008 will be held) at a one-week-long training camp. I am not going to participate in O-Ringen because I am member of one of the organizing clubs so I have possibility to run some of the courses already now. Yesterday I ran part of the WorldCup long distance men's course, enjoying both the course and also the nature in mountains very much. Today I used one of the training maps for O-Ringen (there is a training package consisting of 5 different maps + controls available - so far I can find the information about the training package only in Swedish). Check the map "Training Myrflodammen". I had it everything perfectly under control until number 45 where I got lost for quite a big while. It is 3rd or 4th time I am training orienteering in Sälen and I am glad that this year so many people will come here to explore this beautiful but and technically demanding terrain during O-Ringen. If you are coming to O-Ringen I recommend you to read the Mountain-O school.
Perhaps I should write more about EOC. I participated in all races (7 in 7 days). My results 17th (sprint), 20th (long distance), 24th (middle) and 7th time on the 2nd leg at the relay were all not too bad but not very good either. I hope to make better performances at WOC. Anyway the week in Latvia with our national team was a good experience. I have improved my orienteering technique a bit and got a hint with what I should work more before WOC. All my routes from EOC are at RouteGadget.
One week ago when I was in Latvia, our district championship in Sprint (in Dalarna) was held in Borlänge. I was responsible for the course setting so I was a bit nervous but everything worked out well. The maps and courses can be found at RunOway (Sprint DM Dalarna).
2008-05-29 Tough long distance at EOC
The long final yesterday was one of the technically most demanding long distance races I have ever run. I had big respect for the terrain but I was also looking forward to the challenge. I was not able to avoid mistakes, unfortunately I lost ca 1-2 minutes at couple of controls, all together more than 5 minutes. This season I have been struggling with direction keeping. I started to use thumb compass in the winter and I know that I have to work more with my compass routines to master it properly. I finished 20th. What is probably most special about the terrain here, are the marshes. Some of them look more like lakes even if most of them are not very deep. Unfortunately for Radka Brozkova, one of those marshes destroyed her run yesterday, She lost her compass at a place where she could not reach the bottom. After the scary experience she turned back and ran around on a road; she lost 9 minutes at that leg.
On Monday I participated in the sprint, finishing 17th. I did pretty well in the qualification (4th). My performance on sprint has been improving over the last two years but I have been thinking whether it is good enough to run sprint at WOC. I will make decision later, after more training and thinking.
I have drawn my routes at RouteGadget:
Long final
Long qualification
Sprint final
Sprint qualification
The photo is taken from www.eoc2008.lv
2008-05-24 On the way to EOC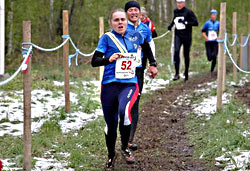 Now also I am on the way to EOC in Latvia. I missed the selection races in Czech republic 2 weeks ago (middle, sprint, long, one-man-relay) because of illness but I was selected anyway. In the beginning of the season I was hesitating whether I wanted to participate in EOC or not. The biggest goal is definitely WOC but EOC will be a good opportunity to compete against the best runners and to run in technically demanding terrain. My plan is to run all distances.
This year so far has been little bit up side down, with too much to do in some periods and not the best focus. I have participated in (and partly also organized) more training camps than ever before (Södertälje, Hungary, Portugal, France, 2 weeks in Czech republic, Paradiset south of Stockholm) and I have set more orienteering courses than I did during the whole last year. So it has been very much orienteering in my head but I have been enjoying it all the time. Especially course setting never gets boring.
Some highlights so far:
Training camp with national team in La Caylar, France in March - perfect courses in great terrain
Training camp with IFK Mora in Czech republic in April which I was responsible for - almost 30 runners from the club where I work and all very happy with the whole camp.
Long distance Moravian Champs in April - good speed and good result - 8th
Tiomila - my team 6th only 36s seconds from the victory, IFK Mora's men - 7th (great guys!)
Kopparkavlen (relay in Falun) one week ago - first after a tough fight from the last control against three other runners, I was very happy about my performance.
Photo: Kopparkavlen (from Dalademokraten).
2008-02-17 Training camp in Mira, Portugal with maps and photos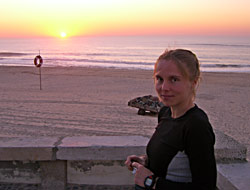 Last year our national team had its winter training camp in Mira, Portugal organised by Estarreja Orienteering Club. This year I have chosen to go to the same place with "my" two clubs, Domnarvet and Mora. Many good maps and courses close to the accommodation, rather technical terrain, soft ground, nice weather and easy cheap travel from Sweden are the reasons for choosing this alternative. I am very satisfied with the camp and I would definitely recommend it to other runners. The choice of various orienteering exercises was huge, I enjoyed most of all two relay training sessions. We also participated in two races: International Trophy of Cantanhede and Portugal 2008 (WRE middle + long). These races were held on new maps. Last year we stayed in a hotel, this year we stayed in bungalows ca 100m from the hotel which was even better than last year.
I finished 7th in the middle distance and 4th in the long distance. Results
My performance on the middle distance was OK, only a few smaller mistakes. It was exciting orienteering all the way. I have recently switched from a "normal" compass to a thumb compass. I think the "transition" has been successful but I still need some more training to feel confident. The main reason for this change was to achieve a smoother orienteering technique, especially on a middle distance and sprint.
Despite the better result on the long distance I had a worse feeling after coming to the finish. I did not manage to stay concentrated, did too many small mistakes and one big and started to feel pain in one of my feet at the end of the course (luckily it was probably only because of wrong taping). It was a long course and rather tough because of the sandy ground. Sometimes it was like running on a beach.
See photos: 54 photos Mora and 25 photos Domnarvet
Our program February 7-14 with maps
Thursday
morning: travel from Sweden to Porto (with Ryanair)
afternoon: first training, running directly from our accommodation, ca 6km course, goal: to get acquainted with the map and terrain, see how different map features look like in reality (different green and yellow colours, special maps symbols etc).
Friday
morning: ca 4km course without compass on a map with only brown features
afternoon: ca 6km course, middle distance on a map next to the competition area, goal: model event for the tomorrow's race, some legs in competition speed to find the right pace
Saturday
afternoon: Race - middle WRE Dunas da Tocha
evening: some of the guys run also night sprint in Praia da Tocha, I rest
Sunday
morning: Race - long Rovisco
evening: core strength training
Monday
morning: 3 loops (1,6-2,2km) on a map without black features, competition speed
afternoon: course ca 6km, map memory training, map without black features
Tuesday
morning: one-man-relay training with Hakarpspojkarna, Majorna and Leksand, competition speed. I finished second, ca 3min after Helena Jansson
afternoon: direction training, course ca 6km
Wednesday
morning: relay training, 3 loops (2-2,5km), competition speed. I am second, Karro wins.
afternoon: attack point training, course ca 4km. I am so tired that I am partly walking.
Thursday
traveling back to Sweden
I have had two complete rest days to recover from the camp after coming back home. Yesterday I did some skiing and today strength training in a gym is on my program. Next training camp will be in Le Caylar, France with our national team in the first week of March.
2008-02-03 Training in Hungary with national team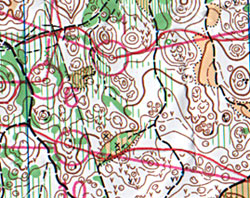 Last week I spent 5 days in Hungary where Czech national team had a training camp together with the Hungarian team. We stayed in Orfü, near Pecs in southern Hungary. WOC 2009 is going to be held in Hungary, in Miskolc in the northeast part Hungary. Even if we trained in another part of the country, the terrain was rather similar - karst terrain with many depressions and pits. See one of my maps (middle distance final). All training sessions except for two were in high intensity. Sportident was used and split times analysed. I think training of orienteering technique in high speed is usually the most efficient one and I liked our training program a lot. It was also nice to be at a camp where everything was arranged and I did not have to do anything, just train, eat and sleep. It was definitely worth coming from Sweden.
Our training program (January 23-27)
Wednesday
morning: traveling
afternoon: easy run in pairs, odd/even controls, to get acquainted with the terrain, no time keeping
I arrived in Orfü in the evening. I was training in Budapest instead, with Zsolt Lenkei who is running for IFK Moras OK in Sweden. We had an easy run in the hills just north of Budapest.
Thursday: WOC middle simulation
morning: qualification race W - 3.9km, M - 5.2km
afternoon: final race W - 4.2km, H - 5.5km
Friday
morning: long distance, slow speed, hilly, no time keeping D 8.1km (ca 80 min), H 12.8km (90-100min)
afternoon: sightseeing in Pecs
Saturday
morning (before breakfast): punching tournament - ca 30s course (testing both fast and slow chip)
morning (after breakfast): short loops (3-5min) * 6 (W)/ 8 (M) to practice start routines and adjusting speed
afternoon: chasing start with macro controls, start intervals based on the morning W 5.8km, M 7.2km
Sunday
morning: one-man-relay W 2 loops 4km, H 3 loops 6 km PLUS (ca 20min later) course with a butterfly, 30s start interval, based on results from the one-man-relay, W 4,5km, M 7,6km
afternoon: traveling home
Results and maps from the camp (partly in English, website of the Czech national team)
Report from the camp in English (blog of Andras Szabo, Hungarian nat. team)
2008-01-14 Photos from our indoor training
From January to March I am responsible for our indoor training on Wednesdays. Most of the participants are from IFK Moras OK but also some students from Mora's sports high school (cross country skiing and ski-orienteering) took part in the training last Wednesday. The indoor training consists of warm-up, running drills, obstacle course with map memory game, strength training and stretching. See 68 photos taken by Carl Magnusson.
I spent last weekend in Järna near Södertälje where Mora & Domnarvet had a training camp together. We used maps from the training package for Swedish champs 2008, the terrain was very nice and there was no snow left in the forest. Look at one of the maps: Acksjöarna.
During the coming weekend it is time for next training camp - we have a "sprint day" here in Borlänge with 2 training sessions. Next week I am going to Pecs, Hungary to train with the Czech national team and in February to Mira, Portugal where Domnarvet and Mora will have a training camp together. It is lot of things to organize and sometimes it can be difficult to clear my brain of all thoughts and concentrate only on my own orienteering but on the other hand I have really good possibilities to train well now and I am so happy that I can work with orienteering.
2008-01-04 A few tips for you coming to Czech republic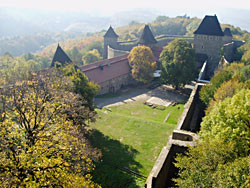 Here are some useful links for you who are planning to come to Czech republic for WOC, some other races or for training:
Maps
Previous maps of the WOC-embargoed ares are listed at the blog of Ales Hejna, Czech cartographer. Most of the Czech maps can be found in the Database of Czech orienteering maps (it is a great source, I wish there was something similar in Sweden).
www.mapy.cz is a very good and detailed map of Czech republic (similar for example to www.eniro.se in Sweden), you can choose: zakladni = basic, turisticka = touristic/topographical, fotomapa = satellite photos.
The area of the sprint final can be seen at a virtual tour of Olomouc town centre and one more here.
Races
Czech orienteering federation has an online competition calendar but at this moment not all races seem to be listed there. You can also check a preliminary list of races 2008 but it might be difficult to understand.
Here are some selected races:
# April 11-13 Moravian Open Champs near Olomouc/Prostejov - Czech and Swedish team will participate (and perhaps some other teams)
# April 19 - Czech champs - ultralong near Brno organized by ZBM (Czech team will have selection races for WOC long distance here in June)
# May 8-11 - Czech team has selection races for EOC near Sumperk (races on 10-11/5 are organized by KSU I guess)
# May 17-18 - Czech cup races near Jihlava organized by SJI
# Czech selection races for WOC: sprint in Sumperk 26/6, long in Jedovnice near Brno 29/6, middle in Rymarov 3/7.
Travel to Czech republic
When I travel from Sweden I usually buy my flight tickets at www.supersavertravel.se, but you can also buy directly from Czech airlines or Sterling or Norwegian.
Travel within Czech republic
Car rental
I have used this website www.economycarrentals.com at least twice before and it worked well and was cheap (operates in many countries). Another option can be for example Alimex.
From the airport
It is very easy to get to the centre of Prague by means of public transport (buses + metro = underground), try to avoid taxi. See information about city transport in Prague and maps and other information on how to get from the airport (at the website of Prague Public Transport Company).
Timetables (buses, trains and other public transport in Czech republic)
Route planner
There is a route planner at www.mapy.cz in the upper right corner = planovac tras. To see how to drive from the airport to Olomouc write: start = aviaticka, praha, cil = u letiste, olomouc (it is where the event centre + official accommodation are supposed to be, according to the WOC- website).
Accommodation and tourism
www.ubytovani.cz worked well for me when I was searching for accommodation
www.czechtourism.com - official travel site of the Czech Republic, check useful links
Understanding Czech
Might be quite difficult, I recommend www.slovnik.cz (multilingual dictionary) and Local Lingo (if you want to learn some Czech).
2007-12-27 Update - last 3 months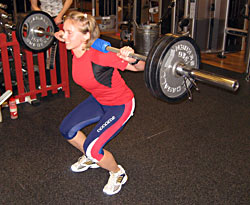 I have not been taking care of my website properly, last update was almost three months ago... Here is a summary of what I have been doing since October.
October
World Cup races in Switzerland (finishing 19th in middle and 22nd in sprint) and then travel to Czech republic for two weeks of training and holidays. I finished 25th overall, after participating in WC-races in Finland, Ukraine and Switzerland. The overall world cup result was not a goal for me this year.
The stay in Czech republic was a rather hectic trip with a lot of organizing, first a training camp for me and some other runners in WOC-relevant terrain and then also holidays. My boyfriend's parents visited Czech republic and my parents for the first time and I tried to show the best of Czech (and also little bit of Slovak) republic in a few days. Unfortunately I got sick after few days and could not participate in all training I planned.
The Czech national team for the next year was selected. I was placed in the A-group, see the whole Czech team for 2008. We were asked by our coach about which distances we would like to run at WOC08. After a lot of thinking I decided to prepare for long and sprint. I would really like to run relay too but the WOC-program with long final one day before relay is not good for this combination of distances. It is pity that the programme was decided in this way. I have never run sprint at WOC before. I have changed my opinion about sprint during this year and started to take it more seriously. I have realized that I like the fast and intensive orienteering a lot. We have good conditions for sprint training here in Borlänge, a big part of the town's area is covered by a high quality sprint map.
November
The Czech training year started at the beginning of November and also my new training program did. Since May this year I have been training much more intervals and other high intensity training, being influenced by Hoff & Helgerud, two Norwegian researchers who claim that intervals 4*4min at 90-95% of maximum heart rate and with ca 3 min active rest is the best way for improving VO2max. The plan is to continue with this kind of training, to add little bit more variation to the intervals and put them into interval blocks (5-10days), to train very short sprints 10-15s max with long recovery, to work with my running technique and to train on athletic track at least once a week. A completely new thing for me is strength training for legs in a gym. My goal is to be able to do it as a maximum strength training (3-5 reps) but so far I have not put very heavy weight on the bar, being afraid to injure myself. However, it is motivating to see the progress - I can lift more and more only after a few training sessions. (see 15s video with me doing barbell squats.)
I stopped counting hours of training/kilometres completely, I only focus on a purpose of each training session. I have also made a plan for my technical training, I perhaps write more about it some other time.
In the middle of November I was talking at Värmland's O-Gala about technical training in orienteering for ca 100 orienteers. I also had my first training camp of the season - skiing in Bruksvallarna with some people from my club.
December
In the beginning of December I got a strange pain in my right foot. I stopped running for two days and then I tried again. It got much worse and I was not even able to walk properly. I started to search on Internet and books. When I found out what kind of injury it could be I was not happy at all. It looked like a stress fracture at the fifth metatarsal bone. This kind of a stress fracture is very difficult to heal and often requires a surgery (insertion of a screw). At that moment I started to doubt about my start at WOC08. I went to a doctor and was sent for x-ray. After some hesitation the doctor told me it showed nothing but I knew that stress fractures are usually not visible at x-ray in the beginning. I even bought a flight-ticket to Czech republic to be able to get to an orthopedic specialist quickly (which is impossible in Sweden) but then I decided to wait and see. I stopped running and trained only cycling (spinning) and skiing (skate) and the pain decreased. Last week I tried to run a bit and this week I have been running twice. I can still feel something is a bit strange with the foot but it does not seem to get worse by little running so I really hope it is not a stress fracture. I am happy that I am able to do a high intensity training, over 90% of maximum heart rate, on both skis (skating) and bike (spinning).
On Sunday this week I will participate in a cross-country skiing competition in Mora (5km skate). I do not have any ambitions in cross-country skiing but I thought it was a way how to make myself train skiing in high speed. My skiing technique is far from perfect but I have no problems to come close to my maximum heart rate so it is definitely a good training.
About my work
Apart from the distance to Mora (100km) I enjoy my coaching job a lot. It would be a long story to write about it now, I can at least show our orienteering training from March - December ( maps + instructions) and also our runners and plans for year 2008.
This year I have done only a little work for my own company, the biggest job was designing a website for Swedish Cross Country Skiing Championship.
I wish you all Happy New Year!