OLD NEWS >> March - May 2006
2006-05-30 Elitserien in Järvsjö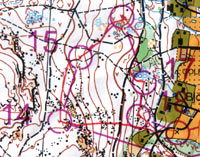 During the Elitserien's race in Järvsjö I caught Jo Stevenson already at the first control and Elise Egseth at 9th. It was interesting to compare myself with the two others. Apart from a boom at 5th control (2 minutes) I managed to stay focused and did not loose contact with the map even if the two others were running faster. I was the fastest one when we were running uphill but downhill was just the opposite, especially when the ground was stony. It is nothing new for me that downhill running on uneven ground is not my strongest side but it is nothing I will try to improve during the next two months. Luckily the terrain in Denmark is not stony.
Results
Map with my route
2006-05-25 Sprint in Borlänge: feeling sorry for the organizers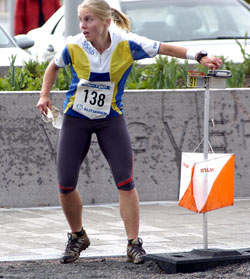 Today´s race was controversial already before it started. The map which was used had been available on the website of the race since few months back and everybody was allowed to train in the area. Not all of the runners were satisfied with this "solution" and expressed their opinion before (on alternativet's forum) and even during the race (wearing T-shirt criticisizing it). Now, the race is over but not the discussions. The jury decided to cancel results of three classes (H21, H20 and H18) after receiving many protests (2 different last controls 10m from each other, many people misspunched, some did not because spectators were shouting at them .... some runners crossed water on a forbidden place but the red cross on the map was difficult to see ... and some more reasons). The organizers' headache must have started already after the qualification - their server crashed, startlists were delayed and no more live results/speaker voice were streamed from their website. I hope they do not get bitter.
And how about my run. Unfortunately, my performance in the qualification was better than in the final. Again I could say; the same happened 5 weeks ago at the Swedish sprint championship. I finished 3rd in my heat. After the qualification I went back home (5 minutes by car) to get some rest in front of our computer. I saved the picture of the competition map from the website, opened it in OCAD and set a course draft of the final.
After rather long waiting in the "quarantine" and discussions about possible route choices with some other competitors I was ready for the final. The first part of the course was interesting. I had to be careful and control my speed. After some 6-7 minutes when the orienteering became easier, my legs started to feel heavy and I also lost few seconds on mistakes. However, the biggest problem was that I was running too slowly. I spent 2,5 minutes more on the course than the winner - Simone. I finished on 19th place.
Qualification map with my route
Final map with my route
My draft of final course
Tunasprinten's website with results, maps, explanations etc.
2006-05-24 One of the most difficult courses I have ever run
Last weekend I took part in three orienteering races - sprint on Friday, long distance on Saturday and middle distance on Sunday. All of them were held in Gesunda - downhill skiing center near Mora in Dalarna. The terrain was very nice but also a bit of surprise for me. It was rich in details such as small hills, depressions, reentrants, stones etc. I found the long distance course on Saturday very demanding and had some difficulties to find the controls. The scale of the long distance map was 1:15000. I would definitely prefer to use 1:10000 for this kind of terrain. When I tried to find out why my performance on Saturday was so poor, I figured out that the scale could be the one to "blame". When it is difficult to see the details while running, I do not read the map properly and take bigger risks. Perhaps I should go to a doctor to check my vision or start to use a magnifier. See my maps:
Sprint map (Friday evening)
Long distance map (Saturday)
Middle distance map (Sunday)
Website of the races in Gesunda with results and splits
Tomorrow most of the Swedish elite runners (and many from abroad as well) gather here in Borlänge to participate in a sprint race included in Elitserien. It is organized by Stora Tuna IK (the biggest club in Borlänge). The race has been a discussion topic since it was announced that it would be held in here in the town. Borlänge is not any big city but from orienteering point of view I do not think that I exaggerate if I write that it is a place with one of the highest concentrations of orienteers in the world. Many of the best orienteering runners in Sweden live here or lived here during their studies. The university and Kupolen (the biggest shopping center in Dalarna) are part of the competition area and also some of the runners actually live in it. It is obvious that it was not possible to make it an embargoed area. The organizers came to the conclusion that publishing the competition map and allowing the runners to train in the area would be the best way how to make the race fair. I think it is OK for a single race like this one but using a similar concept for big international races like WOC is not the right way to go and nothing that motivates me to train for.
Check the website of the sprint race in Borlänge with the competition map
2006-05-18 About 7000 vertical meters in Croatia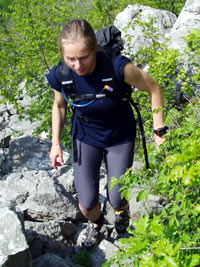 The week in Croatia was what I consider to be an ideal vacation. We spent five days in mountains called Velebit near the Adriatic coast and one day in Plitvice Lakes National Park. It was my first visit to Croatia and my impression of the country was very positive. The highest peaks in Velebit are over 1700 meters high. We did not expect such a huge amount of snow up in the mountains. The snow border was already at about 1400 meters above see level. We skipped the highest peaks but we could still climb many nice mountains. The landscape in this part of Croatia has a special character; it is a karst with various rock formations (bare limestone peaks) but also with forested valleys and depressions. Plitvice Lakes National Park, which we visited during our last day in Croatia, is a system of sixteen beautiful lakes inter-connected by a series of waterfalls. It is also one of the biggest tourist attractions in the country.
The plan for this "vacation" was endurance training. Every day we did about 4-6 hours of hiking, running and climbing in a hilly terrain on marked trails. Quite often the trails were not very distinct and it was difficult to follow them. We bought 3 different hiking maps in scales 1:17 000 to 1:30 000 which were very helpful. My legs got sore after a lot of downhill running during the first day ( and the first 1800 vertical meters) but already during the third day they felt much better. It was a tough training camp but at the same time also some relaxation. See our 73 photos from Croatia with a few comments.
2006-05-09 From winter directly to summer
It seems like we completely skipped spring here in Dalarna. You can still find some rests of snow in the forest but during the last few days we had temperatures above 20 degrees Centigrade. I hope we are going to have the same weather in Croatia where we (I and Patrik) are going to spend the next eight days. The plan is to visit and train in two national parks called Velebit and Paklenica there. We are back on Thursday next week.
I have to write something about the Swedish Championship in Cross-Country Running I participated in last weekend. I decided to run the both distances: 4km on Saturday and 8km on Sunday. My result is nothing to be proud about; but you can find the results here. It was definitely a good experience (even if a painful one) and I plan to take part in more races like this.
2006-05-03 Tiomila - only 11th place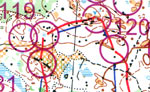 Only World Championship races can make me feel more nervous than Tiomila. But I like this way of feeling nervous. It helps me to keep focus on the map in the forest. Already twice, I managed to come first to the change-over from my leg after running alone at least part of the course. Both times our team won the whole race (in 2000 and 2005). This year my run was not fast and error-free enough to repeat this achievement. I came to the change-over 14 seconds behind, on the 6th place. But it was still a good run and I did what I was supposed to do on my leg. The fight for the victory was unfortunately over for our team after Zuzana made a big boom on the 3rd leg where she lost 7 minutes. She was in the lead when she turned her map and ran in a wrong direction. The logotypes printed on the western edge of the map and pointing to the west confused her. Both Dana and Karolina on the last two legs pushed our team ahead. We eventually took the 11th place, which was however only 4th place in Dalarna. Three other teams from this region - Stora Tuna, Leksands OK and Mora were better than Domnarvet. After the race I went home to watch the TV-broadcast from the night race on our computer. It was great entertainment. It was possible to see runners at different TV-controls, GPS-tracking and interviews and comments in a TV studio. There is no doubt that orienteering can be a great TV sport. Check also my map.
This weekend I do not participate in any orienteering races. Instead, I go to Allingsås (near Göteborg) with the local athletics club Kvarnsvedens Friidrott to take part in Swedish championship in cross-country running. I started my preparation for the championship yesterday when I took part in the district championship in Borlänge (also cross-country running). The course was about 4 km long. We were running 1km-long-lap four times. The terrain consisted of small forest paths, small hills and grass. Results. I was torturing myself and I cannot say that it would be fun. But my goal is to become a faster runner and cross country running races are supposed to be a good way for it.
2006-04-27 Our team for Tiomila
Last year our team Domnarvets GoIF 1 won Tiomila. If I look at various Tiomila tips, nobody thinks that we can do it again. But our team consisting of the same runners as last year is as good as it was one year ago. So watch out for Domnarvet!
Leg 1: Elin Dahlin
Leg 2: Eva Jurenikova
Leg 3: Zuzana Macuchova
Leg 4: Dana Bozkova
Leg 5: Karolina A Höjsgaard
2006-04-25 Elitserien in Tibro: not enough map contact
After the long distance on Sunday I realized that it is time to pay closer attention to my orienteering technique. At some parts of the course I did not have enough contact with the map. Normally I am pretty careful, read a lot of details and try to minimize risks but this season I have not got a " flow" in my orienteering yet. When I run I often think about keeping high running speed instead of putting full focus on orienteering. Meeting other runners in the forest should be a signal for me to increase my concentration instead of increasing my speed. I should be more aware of that. My two big errors (4min + 3min) on Sunday belonged to this category. I finished 25th on Sunday. Results and my map part 1 and part 2 from long distance.
My result was much better in the middle distance on Saturday (10th place, see results and my map) despite a minor error on the 8th control (a small depression in a green area on the map) where many other runners had problems as well. Organizers, please do not not place control stands on the bottom of pits and small depressions...
I do not stop wondering how it is possible that my heart rate is so high when I compete in orienteering. During the middle distance race on Saturday I beat my record of my maximum heart rate. My heart rate monitor showed 175 - average and 184 - maximum. Until Saturday I considered my maximum heart rate to be 183. I was not feeling 100% well during couple of days last week so a cold or a small infection in my body could be an explanation of my high heart rate. But I am not sure.
The terrain with many depressions was very interesting and not typical for Sweden at all. I liked it a lot. Unfortunately missing sports drink at the refreshment controls, no online results and too long time until the results were published on Internet worsen the impression of many people.
Yesterday a new 'World of O' was launched. This great site collects news headlines from more than 60 international orienteering sites, including orienteering federations, dedicated news sites, elite runner pages and orienteering clubs. My site is also included. See www.worldofo.com.
2006-04-20 Maps from Easter races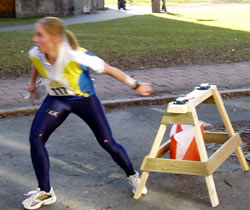 This year all Swedish championships except for the ultra-long distance are held in Skåne - the southernmost region. So, we wanted to train in the terrain and not only participate in the races during our trip to the south. Moreover, only one and half week is left to Tiomila and everybody tries to use every possibility to train orienteering technique in a snow free forest. There is still a lot of snow in the forests around Borlänge. See photos from the Swedish sprint championship, Stenshuvud national park and Elitserien.
Training - Ljungryda (relevant to the long distance champs) - Thursday
I liked the terrain but not the scale of the map (1:15 000). It was getting dark and raining heavily. It was not easy to read the details on the map and run at the same time. A few route choices were available, e.g. to the third control. Stone wall is a map feature typical for this part of Sweden. Stone walls are easy to follow and make orienteering less difficult. There are some areas with many narrow rides (e.g. close to the third control) where it is often better to use contour lines for navigation.

Training - Vångaberget Norra (relevant to middle distance champs) - Friday
Rather hilly terrain with partly stony ground, good visibility. I tried to run fast during the first 30 minutes. At the end I got tired and had problems to concentrate. It might be a good idea to train downhill running for the champs. I was lucky to have tapes on my both ankles.
Sprint SM qualification - Kristianstad University campus - Saturday morning
Good run except for a small mistake to the first control. I noticed a fence little bit too late. My average heart rate was 174 and maximum 181 during the race (my maximum is 183). I finished 6th in my heat (D21-2) and qualified for the final without problems. Results.

Sprint SM final - Kristianstad town center - Saturday afternoon
I got tired already in the middle of the course. There were some tricky route choices and I spent too much time deciding which one to choose. Anyway, I made a couple of wrong decisions. The best routes (in my opinion) are marked with a dashed line. My average heart rate was 175 and my maximum was 183! during the race. I finished 20th, 1:31 behind the winner Emma Engstrand. Results. Sprint is not my favourite distance and I do not plan to run it at world champs but it is a very good training.

Middle distance - Andrarum - Sunday
Easy navigation in a hilly continental terrain was made a bit more difficult by rather bad quality of the map and of the laser print. Also the course design could have been better (a number of less- than-90-degrees angles and small variation in the length of the legs). A couple of smaller mistakes/hesitations and heavy legs (only 164 average/171 maximum heart rate) resulted in 6th place. Results.

Long distance - Elitserien - Andrarum - Monday
Because of lack of ranking points I was not selected for the Elite 1 class and I started in Elite 2 instead. Anything else than a victory would feel like a bad result. My legs were not fresh at all after 5 orienteering sessions in a row but I did what I was supposed to do and won the race. My route choice to the first and the fourth control was probably not the best one. Results.
Our next trip to the south starts already tomorrow. Two races included in Elitserien are held in Tibro (only 4 hours in a car from Borlänge), middle distance on Saturday and long on Sunday. This time I am going to participate in Elite 1.
The Czech team for the European Orienteering Championship has been selected after the selection races in Easter in Vidnava, Czech republic. See who is in the Czech team for EOC (5 women + 6 men). European Championship is not my goal this year. It is WOC in Denmark and perhaps also Adventure Racing World Championship which takes places in northern Sweden and Norway.
2006-04-13 Going south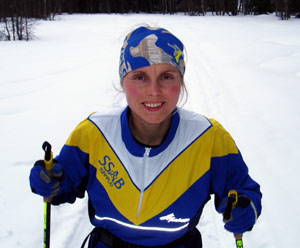 In a few minutes we are starting our trip to southern Sweden where we will train and participate in orienteering races. The first competition is Swedish championship in sprint on Saturday, see www.pan-kristianstad.nu/sm2006. I have not trained any orienteering since Spring Cup but I do not think it will be any problem. It is all about proper concentration in the right time. During the last 2 weeks I was trying to increase the number of running sessions but I have problems with my hamstrings, especially with the left one. It is not an injury but the muscles get very stiff every time I try to run fast. I got a massage yesterday and it feels much better now. The photo is from my probably last xc-skiing training of this season. It was on Saturday last week and the conditions were still great. I like classic skiing on old snow when the temperature is a few grades above zero - you have to use klister skiing wax which is very sticky but it is easy to get a good grip while the skis can still go very fast.
2006-04-04 Dalarna Sports Academy
During the last month and half I worked on a website for Dalarnas Idrottsakademi (Dalarna Sports Academy) www.idrottsakademin.se. Dalarnas Idottsakademi is for students who want to combine studies and sport. Orienteering is one of the member-sports. The others are cross-country skiing, ski-orienteering, athletics, downhill skiing, cycling and triathlon. Dalarna University, Falun and Borlänge municipality and the sport federations support the academy which has almost 70 students and 8 coaches today. That website has been my biggest web project so far.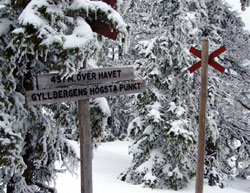 In Gyllbergen (20km SW from Borlänge) - April 1st, 2006. Snowdepth: 50-80cm
(NOT an April joke)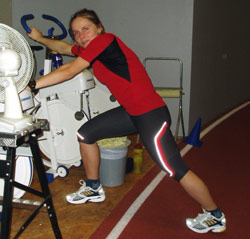 In Faluhallen (indoor athletics center) in Falun (20 km from Borlänge). 200m track.
2006-03-27 Spring Cup: clas: 15th, relay: 7th

I have to be 100% motivated in order to be able to concentrate properly during an o-race. It was not really the case during the weekend in Denmark. A couple of times during the races I had to remind myself about the concentration. On Saturday I was lucky to start at the end of the start field so the main orienteering problem was to choose the right track in the snow. I did not succeed completely and took a wrong one few times. On Sunday the terrain was more demanding and especially the green areas on the map turned out to be a bit tricky. I had a safe plan how to get to the first control but the tracks in the snow did not follow it. So I dropped my plan and somehow I also got lost on the way. I had number 33 but I found 32 and could not figure out where it was on the map. I felt like a beginner, standing there with the map, seeing all other runners passing me, knowing where they were. A 3-minute-mistake is not a very good start but I managed to "wake up" and finish the race in a better way. I still had one of the best times on my leg. Our team (DanaB-me-ZuzanaM) finished 7th. None of us had a perfect race. A heavy snowfall started in the middle of the race on Sunday. The spring has not arrived yet. See 9 photos, my map from the classic distance (the relay map comes later) and Spring Cups website with live tracking from Men's Open -last leg.
My next race is hopefully going to be the Swedish sprint championship which is held in southern Sweden at Easter. My plan is to keep on training xc-skiing, some running (both outside on roads and indoor) and I also have to get rid of the inflammation in one of my teeth.
2006-03-21 To Spring Cup, hopefully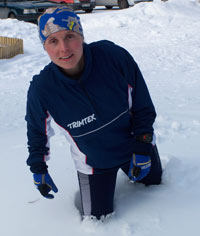 Even if there is still about 10-15 cm snow in the forests north of Copenhagen, on Friday I am going to Denmark to participate in Spring Cup. On Saturday about 180 women start before me, so I prepare myself for a "nontraditional" orienteering race. The team for the relay on Sunday consists of me, Dana Brozkova and Zuzana Macuchova. We represent our Swedish club - Domnarvets GoIF. We have good chances to be among the bests.
I am trying to rest a bit more this week. I have been training a lot during last four weeks and my legs need some recovery. What makes me a bit worried now, is a problem with one of my teeth. It is painful and I suspect it could be inflamed. It is very expensive to go to a dentist in Sweden but I cannot wait until it gets worse so that I miss the races in Denmark.
In Sweden almost all orienteering races have been cancelled so far, even the Swedish Ultra-Long Distance Championship. The situation seems to be similar in Czech republic, also the Czech Championship, which was supposed to be held on April 8th, was cancelled because of snow. I keep on training cross-country skiing. Last weekend I passed 1000 km on skis - limit this winter. The photo here is from Gyllbergen, 25 km from Borlänge. The snow depth there is about 50-70cm.
2006-03-09 No training camp in Denmark
The plan for this weekend and for the first three days of the next week was to go to Denmark to participate in Nordjysk 2-Dages and to train in the forests in northern Jylland. A few days ago we decided to cancel the camp because of snow. A layer of 10-40 cm snow is lying in the terrain. Both Swedish and Norwegian national team cancelled their camp as well. I do not mind the long winter so much as most of the other orienteers. I still enjoy the xc-skiing training a lot. Today I have a day off from my work and I am going to train in Falun where the World Cup xc-race was held yesterday. The sun is shining, the temperature is -5 grades Centigrade and it is going to be very nice.