OLD NEWS >> June - July 2006
2006-07-31 Ready for final races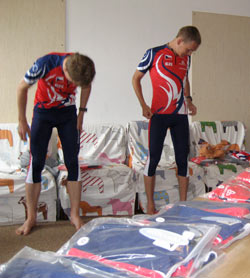 I have qualified for both long and middle distance final. I finished 7th (middle) and 12th (long) in my heat. However, I was struggling with the hot weather, hills and probably most of all with myself and my expectations. Last year in Japan I finished 5th and 3rd in the qualification races and I expected to do better this year - in my favourite terrain and more fit than last year. But I did not and my first reaction was a disappointment. Today it is a rest day and I have had some time to think about my qualification runs and my attitude. I guess I focused too much on my results, my speed in the forest and also on other competitors. During the final races I want to concentrate only on the map and will try to have fun instead.
My maps:
Middle qualification
Long qulification
The Czech team has been doing fine so far, all 6 runners qualified on the middle distance and 5 on the long distance. On Friday we got all happy when we received our new running clothes from Noname. Photo: Petr and Tomas are trying the clothes.
2006-07-26 My last interval training before WOC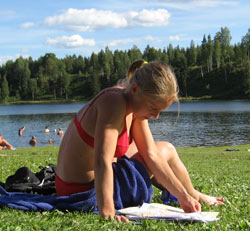 This morning I did my last interval training before WOC. I ran 10 times about 15s uphill and 5 times 30s on a flat path. Both in full speed and with long recovery time. I know that I am in my best shape this year and hopefully also better than I was last year. I am going to run the same distances in Denmark as I did in Japan: middle, long and relay. The first race, middle qualification is already on Saturday. The Czech team travels to Denmark tomorrow. I am coming by plane from Sweden and the others by car from Czech republic. We are going to stay in Århus in Unge Hjems Efterskole together with about one third of all WOC-teams. I hope to be able to update my website during WOC.
The photo above: relaxing and studying maps, taken this afternoon in Amsberg.
2006-07-20 O-Ringen
I am a bit disappointed with my performance at O-Ringen. Neither my navigation nor my physical fitness was at its best. I finished 11th totally, almost 16 minutes behind Simone.
The first stage, middle distance (see my map - E1 middle) started with a difficult orienteering in a very stony and detailed terrain. I was not the only one who did not have orienteering completely under control in this area. The second part of the course was in a fast terrain with some sand-formations. The finish was located in the middle of the event-center with many of the O-Ringen participants as spectators. Even if I was very tired, it was a cool feeling to run from the last control to the finish with so many people watching and shouting. There were also many photographs and cameras in the forest which was a good practice for WOC.
The second race was sprint in Söderhamn. It was probably one of the more difficult sprints with some parts of the course in a forest (see my map - E2 sprint). I had problems with control number 8 which had a fence around it. The fence had a few openings. It took a long time to find the way out/in. There was a interesting route choice to the control number 11. Most of the women (perhaps all) took the stairs. I am convinced that the route to the left (marked with a blue dashed line on my map) was faster.
The last race was "Mastarmöte" (Meeting of champions). We ran the same course as in 1975. I have to admit I am quite impressed by the performances of the runners in 1975. The best time was 46:51 then and my time was 50:57 (see my map - E3 long). I devoted about 20 minutes to studying of the old map with the course from 1975 before my own race. I was not sure how to run to the first control. I excluded the right alternative (asphalt road) on the way to our start-point when I could see that the road was full of cars with spectators on the way to the parking area. I know that many other runners were running on the road but I am still not able to say what the best choice was. Moreover, I did a stupid boom at the first control and lost about a minute there. I could see on the old map that the control (stone) was in a re-entrant but I forgot about it and was looking for it on a spur. I was very tired after the race.
I think the organizers did a good job with the "superelit". All the three courses were challenging, each in a different way. They put a lot of effort to make the races spectator-friendly and used a big TV-screen. We, participants were offered free accommodation with breakfast, free parking at O-Ringen and training maps. A lot of prize-money was given to the 6 bests each day and 3 bests in total (40 000 SEK to the winner). I would not like to run courses known in advance on regular basis in future but to do it once like here was OK.
O-Ringen - Superelit's site
Now I am at home in Borlänge where I spend the last days before my departure to WOC.
The picture above is from the zoological garden in Järvsö which I visited during the day before the second race (sprint in Söderhamn).
2006-07-15 Åre Extreme Challenge and training in mountains
Åre is a downhill skiing center where Alpine World Ski Championship is going to be held next year. I spent here 6 days. Last Saturday I participated in Åre Extreme Challenge (25km kayak + 15 running + 35km MTB). Our team, Team Haglöfs won the women's team race. I did the second leg - running from Åre to the top of Åre Skutan and down on the other side of the mountain to Huså. The first part (from Åre to the top) is steep and is more about walking than running. I actually used poles. The altitude difference is about 1000 meters. My goal was to make it under 1 hour to the top. I managed to overtake a few runners on the way up and my watch showed 58:51. It was foggy on the top and I had to be careful not to lose the track. I was a bit worried about the second part, downhill running because of my ankle but I ran faster than I expected. I was pretty happy about my run and about the good performance of our team. Results (.pdf). After the race I and Patrik stayed in Åre for a short training camp. See our photos from Åre, Storulvån and Bydalen.
Next week I am going to take part in O-Ringen, Superelit.
2006-07-05 Training camp in Denmark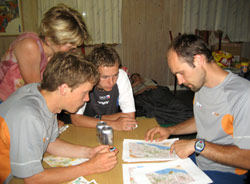 After driving 650km during last night and morning I am back from 5 training days in Denmark. I came back with a positive feeling about the terrain and also about the atmosphere in our team. We stayed in a scout-house in a village Gl. Rye about 15 km from Silkeborg. At the second day of our stay I realized that I had been here before.The finnish area of the relay competition at JWOC 1995 was located at a meadow at the western edge of the village. It is where I won gold medal 11 years ago.
Since our national team has quite limited budget we stayed at this rather simple accommodation. We slept on a floor, all in one room and we cooked our meals together. And I think we all liked it, perhaps more than staying in an expensive hotel.
My ankle behaved well. With a lot of tape I was able to train orienteering as much as I wanted. I ran carefully, especially downhill and when I could not see the ground but it worked pretty well. I trained orienteering 8 times and MTB once.
Tomorrow I am leaving Borlänge again, this time going to the north. Åre, Swedish downhill skiing resort is the destination. On Saturday I am going to compete in Åre Extreme Challenge which is an adventure race (kayak 25km, mountain running 15km/1000m climbing and MTB 35km). I participate in a team race, which means that I am only going to run. We will stay in the Swedish mountains until next Wednesday and my plan is to gain a lot of vertical meters.
Check also my photos from our training camp in Denmark.
I almost forgot to write that I am going to run middle, long and relay at the WOC.
2006-06-28 Czech WOC-team
Today the Czech team for WOC has been announced:
Women: Dana Brozkova, Radka Brozkova, Eva Jurenikova, Zuzana Macuchova, Zdenka Stara
Men: Tomas Dlabaja, Petr Losman, Vladimir Lucan, Michal Smola, Jan Sedivy
Tomorrow I am going to Denmark for a training camp with the WOC-team. It is going to be my first training camp in the WOC area (not counting JWOC 1995 and training camps there 1994-1995). I bring with me a lot of tape for my ankles...
2006-06-26 Running again
Yesterday I did my first running training after Jukola. I ran 40 minutes on asphalt roads and also on stairs. I had almost no pain and could even run fast. My ankle is much better and I hope to be able to train orienteering in a couple of days. Last week I trained nearly 10 hours of MTB, mostly in hilly terrain around Borlänge, Leksand and Rättvik. I did not have any problems with the ankle during the cycling. I am convinced that cycling is a very good way of ankle rehabilitation. There is still some swelling around the ankle, especially in the evenings but it looks almost as usual when I wake up. I have a good feeling from my MTB-training, perhaps being in my best "MTB-shape" ever. Last Friday, yesterday and today, the Czech team had selection races in Czech republic (sprint) and in Germany (middle and long). The results are/will be available on the website on Czech team. On Wednesday this week the WOC-team (5+5) will be announced.
2006-06-19 Black day at Jukola
There is not much positive to write about my performance at Jukola. I did not recover well from the Elitserien final race on Thursday evening and felt tired already before my start on Saturday. The warm weather reminded me of the bad feeling I had when I was running in Japan last year and a big boom at one control at the second half of my course brought negative thoughts into my mind. But the worst of of all was that I sprained my ankle about 1km from the finish.
I had very big problems with my both ankles at the age of 17-18. After series of injuries I decided to tape both of them for all o-races and since then I had not have any bigger problems. Until Saturday, when I injured my right ankle despite having tape on it. It hurt a lot and I had to stop in the forest for a while. I would not continue running if it was not relay, but this time I decided to finish my run, limping the first hundred meters after the accident. Dana on the 3rd leg had a very good race and together with Karolina on the last leg they secured 9th place for our team.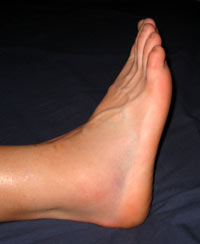 Immediately after finishing my race I went to our tent, put on an elastic bandage and later also some ice to reduce the swelling. I spent the rest of the race laying in the tent with my foot up. Today, more than two days after the accident my ankle is still swollen and hurts but I have already noticed some progress compared to yesterday. However, it is obvious that I cannot participate in our WOC-selection races this weekend. After a telephone call with our national coach it seems that it does not mean that my chances to participate in WOC are gone. So I am not too much depressed about the situation and I plan to start with some alternative training tomorrow (paddling and biking).
Map from Jukola with my route
Tracking 2nd-leg Jukola ladies (with my route)
On Thursday last week I participated in the final race of Elitserien. It was a forest sprint at Djurgården, an area where I ran during adventure race City Challenge last summer. The course was easier than I expected and I managed to avoid bigger mistakes. See my map from the sprint. I finished 13th in this race and 17th in the whole Elitserien.
2006-06-15 Wedding and short stay in Czech republic
My brother got married last Saturday! Of course, I and Patrik went to Czech republic to be guests at his wedding party. See our photos from the wedding and from the rest of our stay in Czech republic. I will write more next week and also put here some maps from there. Now I am in hurry, going first to Stockholm to participate in Elitserien final this evening and tomorrow to Finland to Jukola. I got the second leg in our first team.