OLD NEWS >> August - December 2006
2006-12-12 First training camp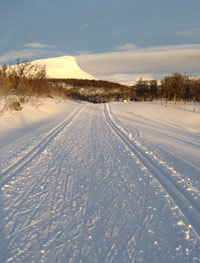 Yesterday I came back from my first training camp since WOC in August. I spent 4 days in Bruksvallarna where I trained cross-country skiing. There is no snow at all in Borlänge but the skiing conditions in Bruksvallarna were very good. See the photos. 7 training sessions, 12 hours, and 180 "skiing" kilometres have been entered in my training diary. The Czech training year started 6 weeks ago and I have been able to train well since than. After WOC and ARWC I had some time to think about and to evaluate this year's season and to make plans for 2007.
I had a few problems during the last season; one-month-lasting-illness in December 2005 and sprained ankle 5 weeks before WOC. At WOC I did not succeed in improving my results from the previous year in Japan. I think the lack of focus on orienteering is the main reason for that. During the last season I worked as a substitute teacher at 5-6 different schools in Borlänge (ca 70% part- time job). Apart from that I also started my own company in April and began to make some money on webdesign. My other projects have been: course setting for a district race in September, working on "youth and O-Ringen project", club's newspaper, course on nutrition at university... It has been fun and worthwhile but during the coming months I want to concentrate on orienteering much more.
2006-10-30 Back in the business, hopefully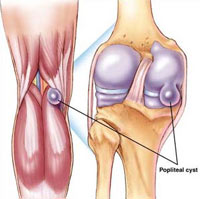 My injury behind the left knee turned out to be a long lasting trouble. After extensive searching on Internet and in sports injury books I came to the conclusion that my injury is located in Baker's (popliteal) cyst. Baker's cyst is a small sack of fluid behind the knee. The sack itself is quite normal but it causes problems when it becomes swollen with fluid. The fluid comes from the joint capsule and the possible reasons for its accumulation are arthritis, tear in the meniscal cartilage and overuse of the knee. The symptoms are swelling and pain behind the knee, tightness and stiffness. The cyst might be visible when the knee is fully extended.
I was even considering a trip to Czech republic where I could go to a specialist in sports medicine or orthopedics and perhaps to carry out magnetic resonance or ultrasound imaging. It is very difficult to have it done in Sweden.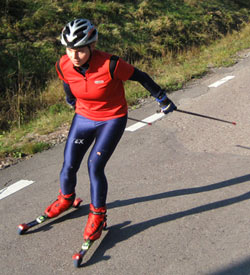 Luckily, about two weeks ago the size of the cyst started to decrease. It is still there but much smaller and I really hope it will disappear completely. About 10 days ago, I tried to run for the first time. I got cramp in my calf muscle after 10 minutes of running but I could run again two days later. By now I am able to run for more than one hour and it feels better and better. It will take some time to get myself used to running, especially in the forest but I am very happy that I am able to run again.
Of course, I did alternative training instead of running during the last two months. I was cycling, training strength and balance and also skating on roller skis.
2006-09-19 Course setter and race organizer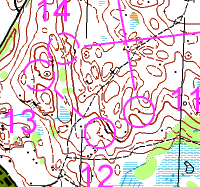 Last weekend I was supposed to participate in Swedish championships middle distance and relay. Unfortunately I still have some injury problems. I have pain in popliteus muscle. It is a small muscle that runs in the back part of the knee. At least I can train mountain-biking without having pain. Last Sunday our club was organizing an orienteering race for about 500-600 participants. I was involved in the course setting work, being responsible for majority of all courses ( DH16 and older). The work started already in the autumn last year. I set 17 different courses. Even if it is an interesting work, I am happy that this project is over now and I can concentrate on other things.
Here are some of the courses I set:
H16
H21
D45, H55
D70, D75, H80
2006-09-01 Photos and maps from ARWC in Northern Sweden and Norway
It takes time to recover from a long adventure race. During the previous 10 days I spent most of the time at home, in our sofa or in front of our computer. Until Sunday last week I was very tired and did not feel well at all. Luckily, on Monday I got some energy back and was able to start to work. The inflammation in my right achilles tendon seems to be healing well after two laser treatments (yesterday and last Tuesday). I am surprised and very happy about the effect of the laser. During the race I lost a few kilograms but I have been eating like a horse since we came to the finish so by now my weight has returned to normal.
I have scanned some of the 20 maps we used during the race.
Section G (trekking Hemavan, Sytertoppen)
Section L (Trekking/Mountaineering Okstindan)
Section N (Orienteering Korgen)
Section P (Trekking Seven Sisters)
Section R (Kayaking island Tomma)
We were carrying a small digital camera with us during some parts of the race. See the photos taken before, during and after the race.
2006-08-26 My longest race ever - 6 days, 8 hours and 47 minutes - 13th place in ARWC
On Tuesday evening, August 22, our team crossed the finish line after more than 6 days of trekking, mountainbiking, kayaking, orienteering, mountaineering, inlines skating, canyoneering, climbing and caving. 21 out of 32 teams completed the whole 800km race and we, Team Haglöfs finished 13th, about 30 hours behind the winners Nike PowerBlast from US. It is a great success to finish such a race but I still cannot avoid a feeling of disappointment. I was the one who made the team slow down few times.
The start of the race was at 11a.m. on Wednesday, August 16 but all teams received maps and road book "already" at 4 p.m. on Tuesday afternoon. At this moment the race started unofficially. The information on the length and expected time for each section (24 in total) was unrevealed in the road book. We also got to know where we would "meet" our four boxes with our gear and food so finally the packing could start. I and Patrik spent also some time with the 20 maps we received. We checked information on each checkpoint in the road book and drew all routes. It was a very busy evening. We went to bed at 1:30 a.m. but I did not manage to calm myself down and fall asleep. I did not sleep at all during the last night before the start and it made me quite worried. During the first 24 hours, a great part of the course consisted of technical biking. I am not good at it and I had to push my bike most of the time (about 40km), losing both a lot of time and energy. We did also two orienteering errors and I had problems with my stomach, so the first day turned out to be a bad start.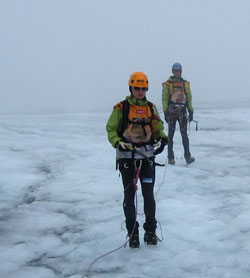 The middle part of the race, until Sunday evening, was better. We caught and overtook many teams and advanced to the 9-10th place. There were some moments when I felt that I am not the weakest member of our team and that I have some energy left. I had often less problems with the sleep deprivation and could more easily keep myself awake compared to my teammates. After orienteering section on Friday evening, I started to feel pain in my both achilles tendons. There was no doubt that I was about to develop inflammation. I got worried and started to eat Diclofenac (Voltaren). I guess the problems began after walking in my biking shoes which are very hard. In order to reduce the strain, Patrik cut out a small piece of my shoes at the back side and I inserted extra soles into the shoes. We had a few arguments in our team, mostly about where and how much we would sleep. In total we slept about 2 hours per 24 hours in average. From early morning until evening on Sunday, August 20, we were paddling kayak (90km long section along the Norwegian coast). It was the longest paddling I have done in my life but the beautiful landscape made it easier to keep going. In order to avoid falling asleep we were playing some word games, sang songs and talked. Early after the start of the kayaking section I started to freeze. My spray skirt was leaking and I ended up sitting in a water.
Sections
A Inlines 2km 10min
B Hemavan MTB Trails 13km 1h
C Alp canyoneering 5km 1,5h
D Drottningleden Biketrail 25km 1,5h
E Underwater Map Hunt 12km 2,5h
F Mountainbike Storfjället 42km 6h
G Storfjället Trek 32km 6h
H Kungsleden MTB 8km 2h
I Krutfjällsvägen MTB Road Trip 77km 3h
J Red Bull Challenge 3km 2h
K Rough MTB 75km 4,5h
L Oxtindan Ridge Climb 35km 12h
M Downhill Mountainbike 13km 30min
N Technical Orienteering 15km 4h
O Mountainbike ride 75km 6h
P Seven Sisters Trek 35km 10h
Q Inlines/ Kickbike 45 km 3,5h
R Ocean kayaking 90km 12h
S Svartisen Glacier 50km 12h
T Trekking 3 km 30min
U Glacier water kayaking 21km 2h
V Inlines/ Kickbike 25km 2,5h
W Caving + Trek 17km 5h
X Mountainbike 77km 3h
After the kayak I felt exhausted and for the first time during the race I felt dizzy and had problems to think clearly. We did not have any sleep in the transition area but set off on the next section directly. It got dark and after about two hours of walking my three teammates got very sleepy. It was pretty cold and I was afraid of sleeping in the middle of the night on the top of the mountain in this cold weather. I kept myself awake by listening to my mp3 player and started to pull the guys down from the mountain. When we got down to the valley, we took about 40 minutes long nap. When I woke up, I was freezing and felt very tired. Even if I got a warm meal, I kept on freezing and was lacking energy. After some hours, in the morning, we decided to sleep again, this time for two hours, because I was walking very slowly. Some teams passed us during this stop and three others some hours later when our speed was still very low. I felt sick and did not have any energy left. We stopped again and decided to change our goal - from finishing among the 5 best to completing the whole race.
During the rest of the race, the atmosphere in the team was not very good. It was difficult to enjoy the spectacular and technical section on the glacier. During the last night we slept more than two hours in a tent in a transition area and I recovered a bit. We could increase our pace again during the last sections (inlines, caving, trekking and mountainbiking) and a couple of kilometers from the finish we caught one of the teams which overtook us during the previous day. Unfortunately we made a wrong route choice on the last two kilometers and did not manage to overtake the team.
My first feelings after crossing the finish line were not very positive. Frustration, disappointment, tears.. But also relief - the torture was finally over. Now, 4 days later, I am happy that we have completed the whole race. I have pain in my achilles tendons, limited feeling in fingertips and toes, mouth sores and I feel ill but I think it was worth it.
www.arwc2006.com Website of the race with photos, videos, results etc.
www.teamhaglofs.se Website of our team
Links to many videos and articles on the website of Lundhags Adventure (finishing 3rd)
www.sleepmonsters.com Race reports and photos
2006-08-12 Preparations for ARWC in pictures
Less than one day left to our departure to Hemavan. I have taken a few pictures during our preparations. This is the last time I am updating my website before the race but our team's website www.teamhaglofs.se will be updated by our friends even during the race. Hopefully, I am back in Borlänge on Thursday, August 24th.
2006-08-11 My next world championship starts in 5 days
About a week ago, in the middle of the WOC week, I got to know that I would participate in one more world championship this month, in Adventure Racing World Championship which is held in northern Sweden and Norway this year. From the beginning I was a substitute in Swedish team Haglöfs, but the ordinary female member got injured at the end of July and so I got a chance to take part in this great event. I have not been training for adventure racing this year, but I still did a lot of alternative training, especially a lot of cross country skiing in the winter and also some biking (1-2 training sessions/week) and kayaking (about 5-6 session in total this year). Now, 6 days after the WOC I feel I am in a very good running shape, probably much better than a week ago, but I am not quite sure if it will help me in a race with a winning time of 5 days. However, I am motivated and I am looking forward to it. Last time I participated in such a long race was more than 2 years ago and I have already forgotten all the pain...
There has not been much time for me to relax after WOC. Patrik, who is also member of Team Haglöfs, started with the preparations for ARWC long time ago. Now, our flat is full of stuff which we need for the race. Clothing, food, sport drinks, backpacks, rope and other climbing gear... We are sorting and packing everything here. The other two members of the team are Staffan Källbäck and Erik Fernholm. After coming back from Denmark, I have tried to train and prepare my body for the coming race. I have been biking a few times, paddling kayak and also hiking with a backpack up and down on a steep trail. There is not much time left for training now, the start is already on Wednesday next week and we are leaving Borlänge in 2 days.
Some facts about the Adventure Racing World Championship 2006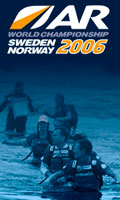 Dates: August 16-23, 2006
Expected winning time: 5,5 days
Start and finish: Hemavan-Tärnaby in Northern Sweden
Teams: 33 teams from 14 countries (3 men + 1 woman)
Length: 800 km non-stop
Max altitude: 1900 m
Min altitude: -5 m
Elevation gain: 15000 m
Sections: 24
Disciplines: Mountainbike, Trekking, Kayaking, White Water paddling , Glacier-mountaineering, Ropeworks, Canyoneering, Inlines and Caving
Start fee: 50 000 SEK/team
Prize money: 200 000 SEK for the first team
Website of ARWC: www.arwc2006.com
Website of Team Haglöfs: www.teamhaglofs.se (our friends are going to update it during the race)
2006-08-08 Relay: 5th place and my best performance at WOC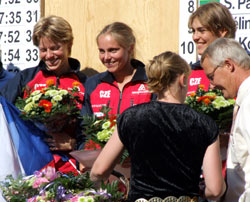 Our team finished 5th in the last WOC-race. It is the same result as we had in Japan last year. Also the Czech men finished 5th. I ran the second leg and the other two girls were Zdenka Stara on the first leg and Dana Brozkova, the bronze medallist from the long distance on the last leg. I think I finally managed to make myself calm down completely before this race. My normal self-confidence was back and I could run without bad feelings and negative thoughts in my head. Our team advanced from 13th to the 6th place during my leg despite a mistake at one control on the second loop where I lost about 1,5 minute. Dana had a very good run again. She had the second best time on the last leg and came to the finish on the 5th place which is a a nice result.
My map from relay
The WOC 2006 is over. In my opinion it was a very well organized WOC. The courses made a maximal use of the terrain and at the same time they offered a spectator -friendly orienteering for people in the arena and also at home in front of computer.
As usual I am not satisfied with my results. My expectations were higher and I was hoping for a place among ten best. Unfortunately I spent too much time thinking about results and I forgot that orienteering must be fun. I thought that I was mentally strong enough but now I know that there is so much more to learn. During the autumn, I am going to study a course in mental training, so I have a chance to do something about it. It was motivating for me to see the best runners Simone, Marianne, Hanny, Dana... and I am quite sure I will keep on training to come a bit closer to them next year.
See photos from WOC.
2006-08-04 Middle final: 15th place with better feeling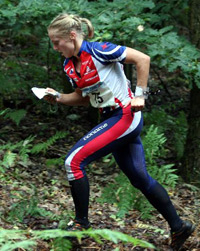 Today I was not that nervous and my legs were feeling better then yesterday. Unfortunately I did a lot of small mistakes in the forest. Results
Tomorrow it is the last race for this champinship, the relay. I will take care of the second leg.
My map: middle final

Foto: Alternativet.se
2006-08-03 Long final: 18th place after very nervous morning
I cannot remember any other occasion that would make me so nervous as yesterday's long final. Since the start was in the afternoon, I had few hours to think about the race. Actually, I did my best not to think about it. I tried to read a book and I also avoided all looking at maps. But I did not manage to calm my body down. Even my stomach was not relaxed and I had to force myself to eat lunch. Usually I do not have any problems of this kind and I like to be a bit nervous. But yesterday it was a completely different feeling. I was not looking forward to the race, I was afraid of it.
The race itself was a painful story. I felt week and tired already from the start; heavy legs, no energy to push in the hills, pain in stomach muscles (stitchs) and also cramps at the end of the course. But I did fight and I managed to finish the race, without making any huge mistakes. 18th place and more than 10 minutes behind Simone is a worse result than what I hoped for but I am happy that I did not give up and fight all the way.
My map from long final