OLD NEWS >> March - April 2005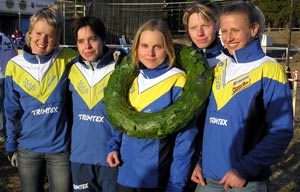 2005-04-24 The o-season start has been better than expected:
First place in Prague Easter 3-days, selection for the Czech national team and victory in Tiomila!!!
Our team Domnarvets GoIF (Elin Dahlin -Zuzana Macuchova - Eva Jurenikova - Dana Brozkova - Karolina A Höjsgaard) managed to win Tiomila yesterday!!!
Results.
Photos from Tiomila.
Photos from training camp with the Czech national team (in Doksy, beginning of April)
I do not have any time to write now, I am leaving for holidays/training camp in Cyprus. I will write more after coming back on May, 2nd.
2005-03-20 The skiing season finished, orienteering season just starting
Last week the skiing conditions were almost perfect in Borlänge and Falun (finally!) and I really enjoyed it. I could not help myself and actually trained more skiing than running during these days. Yesterday I was in Falun, watching the last individual world cup x-skiing race (double pursuit) and I was almost a bit sad that the skiing season is over for me now. However I believe that orienteering will be even more fun this year. Tomorrow I am leaving for a training camp in Czech republic. I will spend the first week with my Swedish club (Domnarvets GoIF) training near Jicin in a very beautiful terrain with sandstone rocks and participating in 3-days-race Prague Easter. During the second week of my stay I will visit my parents in Ostrava and I will also join the Czech national team for a training camp in Doksy. I am back in Sweden on the 5th of April.
2005-03-08 Last Sunday I participated in the oldest, longest and biggest cross-country ski race in the world - Vasaloppet
Vasaloppet in short www.vasaloppet.se: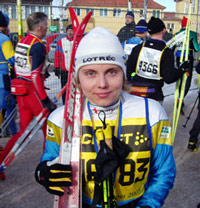 90 km-long-track, start in Sälen (Berga By) and finish in Mora (see the track)
classic technique
almost 15000 participants in the main race on Sunday
the fastest time ever is 3:38:57 (in 1998), the average one about 7 hours and the longest time about 11 hours
women were not allowed to participate in Vasaloppet before 1981
this year about 15% participants were women
participants' average age was 42 years
this year the winners were Oscar Svärd, time: 3:51:47 (for the second time) and Sofia Lind, time:4:24:09 (for the fifth time), both from Sweden
the starting fee is between 135 to 175 EURO depending on when you register
almost the whole track (90km) was made out of artificial snow or snow transported from other areas because of lack of snow this winter in Dalarna; it cost organizers 5 000 000 SEK (550 000 EURO) extra to prepare the track this year
3 people have died this year, one a few hours before and two during the race, probably because heart collapse
over 3000 people are involved in the organization
My goal was to complete the race under 5 hours and 30 minutes and I was not far from succeeding. My time was 5:34:24 and it gave 54th place in the women category. Results - first 100 women. My biggest concern before the race was the low temperature in the morning at the start - according to the forecast about -15°C. I decided to start with rather thick gloves and special ski boots-covers to protect my hands and feet from the cold... I started from the starting group number 4 with more than 3000 people standing ahead of me. I was prepared for crowding during the first kilometers. It took 30 minutes to complete the first 3 kilometers for me but I can imagine that it took more than 1 hour for the people starting from the 10th group. Vasaloppet is really gigantic!
The organizers did a very good job with the track and after all problems with the lack of snow they were lucky with the weather during the last week. Sunshine and a few degrees below zero.
I enjoyed the race a lot even if it was a bit frustrating not to be able to ski faster because of too many people in the track ahead of me. Anyway I manage to get myself tired at the end and at least during the last 20 kilometers I looked forward to come to the finish in Mora. I think I drank too little and was a bit dizzy at the end. Many thanks to the service team (Patrik's parents and Mats) for help with the skis, refreshments controls and cooking!
Photos from Vasaloppet.