OLD NEWS >> January - February 2005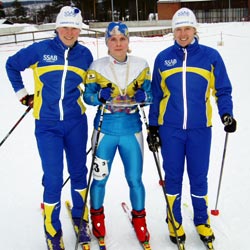 2005-02-21 Medal from Swedish championship in ski-o
My short ski-orienteering racing period in this winter finished with a nice achievement. Our team (Domnarvets GoIF) won a bronze medal in the Swedish relay ski-orienteering championship (category D21). Well, the competition was not the toughest one ever - there were only four full teams in the D21-category. The number of active ski-orienteers in Sweden is 3-4 times lower than for example in Czech republic. However, Sweden has probably the best ski-orienteering national team in the world and will certainly win many medals in the Ski-O World Championship in Finland in two weeks.
The photo above is of our team (Camilla on the left, Johanna on the right and I in the middle). Our club Domnarvets GoIF was the one with most participants in the Swedish champs - 11. It is a pity that there are not more people participating in the ski-o-races in Sweden because the races are both technically demanding and very fun. The bad winters (like the one this year) is probably one of the reasons for the falling number of ski-orienteers in Sweden.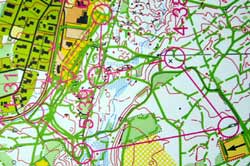 There were two more races last weekend. I misspunched in the mass-start on Saturday and finished 7th (and last) in the night-sprint-relay on Friday evening (together with Ylwa Grape). All these three races were organized in Åsarna (4 hours driving from Borlänge to the north) where last year's ski-o champs took place.
18 photos (people from club)
Map from night-sprint-relay (84KB) - one lap out of two
Map from mass-start (101KB) - one lap out of three
Map from relay (156KB)
Organizer's web site with results (in Swedish only)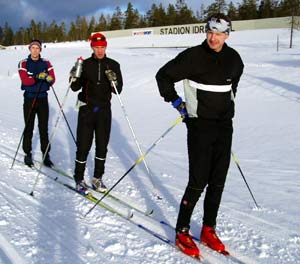 2005-02-04 Back from a training camp in Idrefjäll
The three days in the mountains were a nice break from working and studying in Borlänge. A few weeks ago I started to work as a substitute teacher at primary schools. Since September last year I have also been studying a few university courses, mostly via Internet (Test for Athletes - Endurance, Design of Interactive Systems for the Web and some others starting this week). I do not work full-time now which gives me the possibility to train and rest more. The training camp in Idrefjäll was organized by "Idrottshögskolan" (Sport University) and the participants were mostly elite orienteers, triathlets and cyclists studying in Borlänge and Falun and also the coaches. Check the photos.
2005-01-30 Ski-orienteering this weekend
Yesterday, I participated in my first ski-orienteering race in Sweden. It was a sprint race, organized in Orsa-Grönklitt - a skiing resort located 30 km north of Mora and the nearest place with a sufficient amount of snow now. I have competed here three weekends in a row. Last weekend I raced in another xc-skiing marathon - Hornbersgloppet (results-pdf DM 42km). The map above is from the yesterday's race (VM test - sprint 3,5km). I did some mistakes in the beginning but I enjoyed it a lot. Results D21E. From Monday (tomorrow) to Wednesday I am going to train in Idrefjäll.
2005-01-17 My first cross-country skiing marathon
Last Saturday I participated in Maserloppet - my first cross-country skiing marathon which took place in Orsa-Grönklitt. My intention is to take part in Vasaloppet in March this year (90km from Sälen to Mora, the biggest cross-country skiing race in the world) and I need some results from other ski marathons if I want to start in one of the first start groups at Vasaloppet. On Saturday my time was 2hrs37min on a flat, approximately 45-km long course, 42 minutes behind the best man. I had the best time out of the few participating women (D19) but 2 men from H60 class (older than 60) beat me... My hands, back, neck and some other parts of my body are sore now but it was fun and I hope that the snow conditions will allow me to participate in few more races like this before Vasaloppet. Results(pdf).
2005-01-10 Lack of snow
There is almost no snow in Borlänge and skiing is possible only on 1km-long trail with an artificial snow. It is really unusual in January. All races (ski-orienteering and cross-country skiing marathon) which I planned to participate in January have been cancelled due to the lack of snow. I try to use the opportunity and run in the forest instead. I believe that interval training "up-hill" is one of the most efficient training forms for me, especially if I consider the hilly terrain in Japan. Yesterday I ran 6 * 4 minutes up on a slope 450m long with 85m elevation. Despite the lack of snow I have managed to do more cross-country skiing training so far this winter than I did ever before. I hope that it will help me be a better runner when the orienteering season starts. I have some photos from my winter training (skiing in Falun on New Year's Eve and a MTB-training around Borlänge yesterday).