OLD NEWS >> September 2004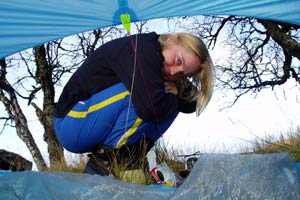 2004-09-30 Last weekend I was hiking in the mountains around Grövelsjön (on the Norwegian border, ca 3,5 hours driving from Borlänge). Usually I can see and experience mountains only during my training or racing but this time there was not any time pressure. Only the weather was making the whole trip a bit tough. It was raining and it was very windy during the first night and morning and I was freezing in the light-weight sleeping bag and the 800g - racing tent. Later the weather got much better and it was actually very enjoyable. September is much better time for hiking in the Scandinavian mountains than for example July - then there are too many mosquitoes. Check the photos!
2004-09-20 Yesterday I and Patrik won the mix class of "Gruvbragden" - a sprint multisport race in Falun (10km MTB, 3km running, 3 km canoe, 3km running). Patrik was towing me during the both running sections and also uphill-MTB (see the picture). It helped to improve the time from the last year by 2 minutes despite some time loss during small bike accident (I fell in one curve and crashed together with one guy from another team). Gruvbragden is a cool race (and well organised). It is a pity that there are not more people participating. It is a perfect race to start if you want to try multisport.
Link to results (our team is called Maybe Silva).
2004-09-15 One and half month has gone since I updated my website last time. The reason is simple - too much work! In August I was responsible for a Swedish language course organised by our university (Högskolan Dalarna) and also for the introduction and administration of all international students coming to Campus Falun (about 100). Unfortunately I am just about to fininsh this job since the person who had this post from the beginning is back and I have to leave. It is pretty unclear what I am going to do after October 31st.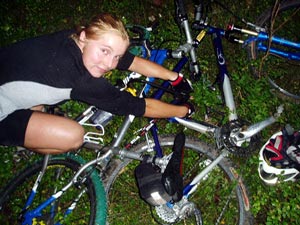 I have been trying to train as much as possible (of course...) About 10 hours a week in average which is not much. Mainly MTB. However, most of the time I am tired and it is difficult to recover. My car got broken at the end of July... The positive thing about it that I have to go by bike to work in Falun (abour 25km single trip). I was involved in course setting work for district championship in relay orienteering which was organised by my orienteering club Domnarvets GoIF at the end of August. One week later I was one of the organisers of an adventure day, introducing some people to climbing, which was a great fun. In August I also participated in two races: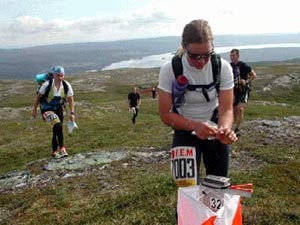 FEM - Fjällräven Mountain Marathon, Åre, August 6-7th
The race concept of the longest distance (70km) is as follows:
- 2-days-race (35+35km), 2 people in one team have to stay together all the time
- the night is spent in a camp in the mountains
- the runners have to carry all necessary equipment (tent, mattress, proper cloths, stove and gas etc) and also the food for both days with them from the start
- orienteering course on 1:50000 map (15-20 check points each day), easy navigation compared to an orienteering race
- the terrain is alpine with a lot of elevation and also with some marshlands which cost a lot of energy, few tracks, the highest point (Åre Skutan - about 1400m)
- first day mass start, second day chasing start
- the race is organized by Fjällräven (a Swedish company producing outdoor clothes), start fee 1200SEK (110 EURO)/team, prize money for the first team 25 000 SEK (2 250 EURO)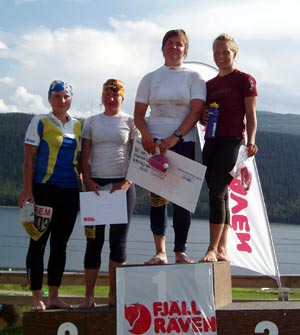 I ran the longest distance 70km in a team called "Silva/Björntjänts Kakel och by" together with Hanna Larsson in the ladies class. There were only 4 teams participating in the longest ladies class but it was the most exciting fight of the whole race. A fight between our team and Lundhags Adventure. Lundhags didn't rely on their navigation skills but they were stronger runners at the end. What happened? Lundhags' girls were following our team almost the whole first day. They were stopping at exactly the same places as we were; sometimes even waiting for us for example when we stopped to fill our bottles. They confessed that they didn't know where they were sometimes. It was their tactics to follow us. A mountain marathon is not an orienteering event where the rules forbid to follow other runners in this way. So we could not protest only fight harder. In the beginning of the second day we tried some different tactics. We took another route choice to the first checkpoint and suddenly we were some 50m ahead of them. We ran as fast as we could and increased the lead. In the middle of the course (second day) we were about 13 minutes ahead of them. But the race was not over. They managed to catch us after very strong downhill running. What to do now? We sat down at one checkpoint and let them run away, hoping that they would run in a wrong direction. They did but the terrain was open so they could catch us again and despite some mistakes Lundhags crossed the finish line first after 14 hours (7+7) of running in the mountains. No prize money for us but an exciting experience and good team work with Hanna. There is a story about our fight (in Swedish) on the official site of race.
Results, photos etc: www.fjallraven.se/fem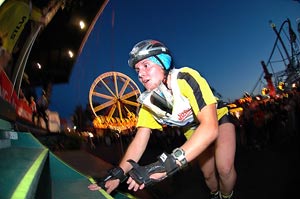 C2 City Challenge, Stockholm, August 20-21st
The decision to participate in this race was made 3 days before the start. Not the best way to prepare for a race like this but we tried to do the best out of the situation. I competed with my team - "Silva" together with Staffan, Jari and John + our asistants. The concept of this race is similar to Raidseries (3 men + 1 woman in one team, 3 on the course and 1 resting, the woman can skip only limited number of sections, short pauses between the sections, assistants transporting the equipment and the resting competitor between the transition areas).
The race consist of three parts:
- Prologue on Friday night (ca 2 hours)
- Long Night (Långa Natten) during the night (ca 8 hours)
- Day After (Dagen Efter) during Saturday with first team coming to the fininsh at around 4 p.m. (ca 8 hours)
I was confident about the race - I participated in C2 in both 2002 (with Silva, finishing 4th) and 2003 (with Gainomax Recovery, finishing 8). The only question mark was kayaking. There was space for only 3 kayaks on the roof of the assistent-car and I had to borrow kayak from my team-mates if I wanted to participate in the kayak sections. I tried to paddle in one of their kayaks a few hours before the start but it felt too unstable and I realized that I have to skip all kayak sections.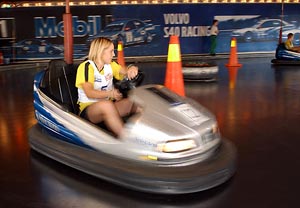 The prologue was located in Gröna Lund - a famous fun-park in the centre of Stockholm where thousands of people were enjoying different activities such as roller-coaster, bumper cars, fun house, shooting etc. Some of these activities were included in our race. The prologue was definitely the best and most exciting part of the race and it was easy to forget that we have to keep on running, paddling, skating and cycling for at least 15 more hours. The speed was high during the prologue but it decreased a lot during the night and the following day. Since I skipped quite many sections I felt much fresher than my team-mates, towing one of them almost the whole last orienteering section (10km). We finished 4th - about 2 hours behind Lundhags Adventure. According to my team an "OK-result" but I was disappointed with our performance. It was pity (and my fault) that I didn't organise a suitable kayak for me and that I could not participate in the kayak sections.
It is also a pity to see how the quality of this race decreased. Some sections had to be cancelled - I guess that the organisers simply set the course "from a table at home" without running, biking, paddling etc around it otherwise they would not be able to do such a wrong evaluation of the expected times for each section. It seems that the organisers' main goal is to make a lot of money on the race. They concentrate on the sprint and motion classes, which attract many participants. Some of the maps, which we had to use were cheap photocopies and almost impossible to read. It took them couple of days to publish the official result on their homepage and we had to wait more than one week for the split times... C2 has been one of my favourite races but unfortunately I had to change my mind after this year's experience.
Many photos from the race (taken by our team photographer Mats Andren @).
The official site of the race www.citychallenge.nu
The report written by the British team Saab Salomon Orange for www.sleepmonsters.com
>> Old news