OLD NEWS >> February - March 2004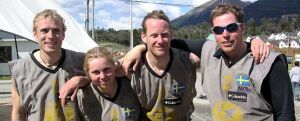 2004-03-15 My Internet connection is working again and I finally I got some time to update my site. Now you can find 63 photos which our team took before, during and after the race in Patagonia.
The organizers surprised and put a great amount of photos on their site (and they are still adding more). I have spent a few hours looking at them today. Go to the picture gallery on the official site of PER and choose: "All tracks" and "02-Reebok Adventure" if you want to see pictures of our team. They have also managed to translate the whole news site/update to English so if you want to read how the race was from their point of view, check it out.
My race report is not ready yet. I was working a lot during the last 2 weeks; some days from 7:30 am to 10 pm. I have still done some training. Not much but enough to realize how much I enjoy it.
Tomorrow I start in a new job - I will work in the international office at the university in Falun. I was working at the university 2 years ago and I liked it. It is full time, less stressful and better paid than my job as a teacher.
2004-02-29 Back at home! A bit tired (partly because of the long travel back) but healthy except for some little pain in my left Achilles tendon. The race report with pictures and scanned maps will come soon - hopefully - I just need some energy and time to write it.
I have already started to work today. No traing yet but perhaps I start tomorrow if I feel better.
Luckily, also all our gear came back with us. The box with my bike, paddle, shoes, life jacket, dirty clothes etc is now waiting in the hall to be unpacked.
In the meantime you can check the following sites:
Race results on the site of PER (so far in Spanish only)
Team photos on the site of PER
2 race reports from www.sleepmonsters.com (from the beginning of the race)
The site of the Danish team Tscherning-Löberen with some race reports from PER (in Danish)
Short article in local newspapers about out team (in Swedish)
2004-02-24 The crazy race is over, 4th place only 2 min behind Adventor Uruguay at 3rd place..!!! The team arrived to the finish in Puerto Williams in the afternoon 21/2 and they are all healty and in a relatively good shape. Partly because they had opportunity to get some sleep during the two compulsory stopp that was included in the race.
The most crusial and toughest sektions were the trekking parts, a lot of dead fallen trees, djungle and many wet bogs. For example, one trekking section took them 2 days to compleat.
I can imagine that our friends now are very happy to have compleated the race, but at the same time disappointed, Patagonia Expedition Race promised 60.000 USD for the first 3 teams. Reaching the finish line 2 min to late must be really tough. Specially when the organisers made several serious mistakes. Some CP:s was not correct placed and the team had to search for many hours, the race director promised them time compensation but he did not keept his promise at the end. The rope section had to be closed after just a couple of teams had passed through, the rope was nearly broken..... Of course we don´t know what happens in this matter when the mainsponsor no longer supporting the race.
Anyway, they are now an experience richer and even it cost much time, money and effort, they had done someting to be really proud of. Well Im sure they are, or at least will be..
25/2 the team will fly back to where it all started, Punto Arenas, and from there back home to Sweden.
Welcome home!!
2004-02-22 Main sponsor, Planet Patagonia, pull out during the race..!!? A short message reach me by mail: "The race did not meet the strict criteria necessary to be included under the Planet Patagonia brand name for 2004. However, we are happy to inform you that the race is alive and well and that our relationship with the race organizers is alive and healthy". Let us hope this don't effect the competitors during or efter the race to mutch.
The race should be over by now and I am eager to get some information how it all end up.
2004-02-19 3 days and 11hours into the race, at CP 8 out of 17, Reebook adventure is on 4th place. Just 3h and 6min after the leading team Xinix. The first three teams are all within 26 minutes. Nine teams still on course. Unfortunately it is very difficult to get information about whats going on, the organisers is not good at all to update their homepage.
2004-02-17 At CP2, after the first mountainbike section (70km), Eva, Mike, Per and Per where on 3rd place, 9 min after the leading danish team, Tscherning-Loberen. A quick chance and then enter the water for kayaking.
Seven hour and 60km later at CP3, the team still keeping the 3rd place, only 14 min behind now leading Xinix.
The disiplines to CP4 and 5 was mountanbike and to CP6 trekking. At CP6 they where on 5th place, 2h and 40min behind Xinix.
At this point they have been racing for 2days and 12 hours , we are just in the beginning of the race. There will for sure happens a lot the coming days.
2004-02-17 The race has begin, 10 teams left Punta Arenas 15/2 07:30. Beside our Swedish gang, the New Zeeland team Xinix is one of the favourites
The teams will now fight against each other for at least 6 days. Patagonia Expedition race consist a 500km course, diveded into 8 different stages, 2 trekking (150km), 3 kayak (150 km) and 3 mountainbike (200km). Along the course the teams will visit 17check points. Finding the best way between the CP:s, is one of the most important things if you want to succeed in a race like this. Not to easy when you suffering from shortage of sleep and lack of food. In Patagonia there will be even more difficult, because many of the maps are only satellite photos..
2004-02-14 The team has arrived to Chile-Punta Arenas after a trip without trouble. The weather is very good and the sun is shining. But it can quickly change, so they better put some worm clothes among their racing equipment. But for the moment short tights seems to be the favourite outfit. Quite a difference from here in Sweden..
As always before a competition in adventure racing, there are a lot of things to do and many questions to sort out, what clothes shall we wear, how mutch, food, energy bars, gel, candy and chips shall we bring? In this race it is especially difficult because the team only allowed to meet their prepacked food twice. As the competition will last aproximately 6 days, it also means they have to carry food for at least two days.
During this day the team managed to pass through the equipment controll and the rope "skill-test". Yesterday they showed the racing staff that they could fall into the water from a caone and then get back into it. To make it easier, they used some kind of floating device on their paddels. Let us hope they don't need to practise that during the race. Witch starts in only 10 hours.
2004-02-09 Our journey to Patagonia starts in a few hours (Stockholm-Madrid-Santiago de Chile-Punta Arenas). It has been a bit hectic with all the packing during the last days but almost everything is under control now. Keep your figers crossed for us so that we needn't pay for any excess baggage at the airport....
One of my friends is going to update my homepage with reports from the race, so that you can follow our team here. Patagonia Expedition Race starts on 15th of February.
Thanks to Jonas, Patrik, James (and perhaps some other people) for lending me some equipment, Staffan for taking care of my rats and Antti from Finland for organizing my shoes VJ Sarva. And especially my parents who helped me a lot with finacing the trip.
2004-02-07 The maps from Stockholm Winter Adventure Race with our route choices can be found in "maps" now (orienteering, MTB and skating).
2004-02-05 Last weekend we had a training camp with the team for Patagonia Expedition Race (Mikael Nordström, Per Henriksson, Per Vestling and I). Kayaking, rope technique, running and disscusions about the equipment, our tactic etc. were on the programme. We have taken some pictures during the traing of jumar ascending and absailing. Thanks to Kajaktiv and Dala Fritid who lent us the K2 kayaks. PowerBar helps us with the gels and bars which we are going to eat during the race.
If you understand Swedish you can read an article from the newspapers Dalademokraten "Sydamerika nästa mål" (South America next goal). The photo here is taken by @ Bons Nisse Andersson.
Only 4 days left to our departure!
I have just moved to a new apartment and have been pretty busy with it. Still some stuff is left in my car or unpacked in the middle of the living room....
>> Old news