OLD NEWS >> December 2004
2004-12-29 Orienteering - preparing for a comeback in 2005
I have decided to concentrate on orienteering next year (2005). After an "adventure racing break" in 2002-2004, I want to train and compete in orienteering again in 2005. I feel motivated and I hope that orienteering will be a great fun when the season starts in spring. My goal is to join the Czech national team for World Championship which takes place in Japan in August 2005 (the map next to this text is from there). The terrain is extremely hilly which I like. I started to train in a different way about 2 months ago.
I have updated almost all parts of this web site during December. Have a look around. Also my new training diary is online now - read more under training.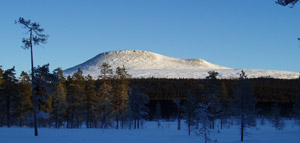 2004-12-14 Training camp in Idrefjäll.
Last week I did some nice cross-country skiing training in Idrefjäll (3 days). After some initial problems with my skating technique a few weeks ago, I can enjoy and carry out interval training both in classical and free style now. I tried ski-orienteering as well - first time in Scandinavia. (I used to compete in ski-orienteering when I lived in Czech republic, some 7-10 years ago). It was a great fun. Check the map1(127kB) and map2(135kB) and a few pictures.