OLD NEWS >> April - May 2004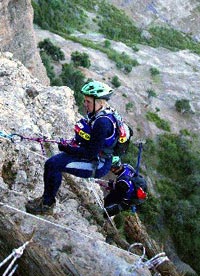 2004-05-31 Leaving for Explore Sweden in only couple of hours! Almost everything packed and ready.
Follow the race live on www.exploresweden.se! (start on Thursday June 3rd 00:01 and finish from Sunday June 6th 15:00).

Some photos from XARS in Morocco (© Monica Dalmasso).
2004-05-21 No, I have neither died or got fed up with sport or Internet. I started to work full-time after coming back from Chile in March and decided to prioritise my training, job and friends. However, I haven't given up my Internet project.
So what's happened since March and what's going to happen soon?
Job…
I have been working as international coordinator at Dalarna University in Falun. I enjoy my work most of the time and realize that my ambitions are not limited only to sport… My contract is until June 30th.
Explore Sweden, June 2nd-7th, at three secret destinations.
In one and half week, I will stand at the start line of Explore Sweden together with the guys from my team - Team Silva (Peter Juthberg, Johan Andersson and Staffan Källbäck). I do not exaggerate if I write that Team Silva is well prepared and better organized than ever before and ready for fight in Scandinavia's most important race so far. Explore Sweden is going to be my second expedition race.
Raid Series in Morocco, May 8-9th, "lent" to team Reebok Adventure (Mikael Nordström, Per Henriksson, Daniel Mattsson and assisten Helena Lind). My favourite race - this time in a spectacular terrain in the Atlas Mountains in Morocco.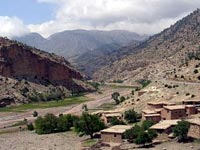 The French organizers are improving every year and I was very happy to experience the race and Morocco country despite our disastrous result - 20th place. My legs survived the almost 100km-long-run/trekking with about 5000m climbing without any bigger problems. Of course, I could hardly walk one day after but that's normal. We spent quite many hours in the altitude of 2500m-3100m. It was pretty cold up there even if we were only some hundred km from Sahara. First time in Africa!
Check the scanned part of the first map with combined section A and B (trekking and canyoning - over 30km/1600m climbing).
Results and photos on the organizers' home page www.theraid.org and also on Sleepmonsters. Our experienced assistant Helena managed to take some pictures.
Naturguiden, May 1st in Rimforsa with my teammate Emelie Tillegård, about 6 hours.
Orienteering - Paddling - MTB - Abseiling - Orienteering. It works always fine to race together with Emelie. However, I was not very strong this time and we finished 2nd, only some minutes after the first team. Well-organised race.
Results and photos on the site of the race www.naturguiden.se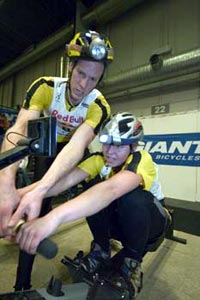 ESIQ - Explore Sweden Indoor Qualifier, April 2nd-4th, with Team Silva (Staffan Källbäck and John Karlsson) in Stockholm International Fairs.
Full speed indoor multisport race on a 1000 m² gladiator arena. Challenging course with trail running (e.g. climbing over a 2m-high-wall with 20kg-heavy-backpacks), dark navigation, rope (ascent with jumars and abseil) and water section (7,5m-long-pipe filled with ice-cold water...huh), fitness machines (1 km rowing machine and 5km biking)... About 20 minutes wining time. Totally exhausted in the finish.
We didn't make the final...
Check the action photos taken by our team photographer @ Mats Andren (even more can be found on his site.)
Results, photos, videos on ESIQ's home page. Download the movie clip (4MB, .wmv) and you can see how hard all the racers were pushing (me as well). The pipe was cool but I was happy to get through it...
No, I haven't written any rapport from Patagonia Expedition Race but you can at least see part of one of our maps (satellite picture).

PS: Do you want a rat? My two rats have got small rats. Again...