OLD NEWS >> November 2003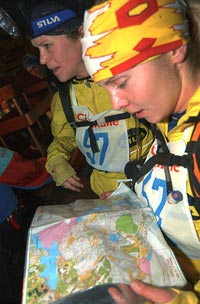 2003-11-17 I am quite happy with the last weekend. We - Team Silva Multisport (= me and Emelie) - won the 6-hours-orienteering-race Litepac PowerBar Rogaine (in the women cathegory). The race was organised by OK Ravinen in Gustavsberg (15 km east of Stockholm) in a beautiful terrain. There were 37 controls placed in the forests around Gustavsberg and visiting each control gave from 20 to 100 points. The maximum number of points was 1940. No team suceeded in collecting all of the points. However, the best team in the men cathegory was not that far from the maximum - they got 1880 points. We managed to obtain 1550 points - which would give us the 8th place among the men. See the total results.
The race started at 12:00 and the last possible arrival without getting a time-penalty was at 18:00. It got dark after 3,5 hours and we had to use our headlamps which we were carrying with us during the whole race. The maps (3 different ones) were distributed at 11:00 so we had one hour to decide the order of controls and our route choices and to draw them on all of the maps. It was difficult to know exactly how many controls we would be able to visit, so I prepared different alternatives for making a short cut and skipping certain controls at the end.
It was for the third time I competed together with Emelie and after the race we could agree that it just works better and better. I was responsible for the navigation and Emelie was carrying the starting card and punching the controls, which gave me some extra time to read the map.
I ate 4 or 5 gels, one energy bar and a few energy tablets with mineral salts (for avoiding cramps) and drank about 2 litres of a sports drink during the race.
The fact that I didn't have any pain in my right knee (the problem called "runner's knee") was probably more important than the competition result. I was quite worried before the race because it had happened a couple of times earlier that I started to feel pain only after 2-3 hours. Therefore, last Thursday (two days before the race) I went to Anders aak@du.se who is a chiropractor to get some treatment for my back. Anders had helped me a few times before and I hoped that it could get better even this time. And the result was better than expected -I didn't have any pain at all.
Our team photographer Mats Andren foto@wombat.to followed our team and took many nice pictures. Some of them can be found on: http://www.wombat.to/rogaining2003/
If you understand Swedish, read the article "6 timmar orientering i ljus och mörker" on alternativet.nu - with some pictures and parts of the used maps.
2003-11-12 I almost forgot that the new "training year" started on Monday last week. At least according to the orienteering people from Czech republic. I used to follow this system trying to make some plans for the coming year. This year I don't really know. I have motivation to train and to participate in some adventure races next year but I am not sure whether I want to prepare for the world championships in orienteering which takes place in Sweden in September 2004 - just about 100 km from the place where I live now.
Last weekend (7-9/11) I took part in a course for orienteering coaches in Leksand. It was quite intensive weekend - with many lectures and also exercises outside. The main topics were leadership, training orienteering-technique, planning etc. I have learned some new things and I hope to be able to continue in February.
This week on Saturday I and Emelie (Team Silva) will run together at Litepac PowerBar Rogaine in Gustavsberg (near Stockholm). It is 6-hours-orienteering-competition and the goal is to collect as many points as possible. Each control is given a certain number of points depending on how far and difficult it is. We partcipated in this race already last year and now we have the victory in the women cathegory to defend. I am in a quite good shape but I have had some problems with my right knee and now I am afraid that I get pain in it after a few hours of running. Check the pictures from the last year: on the site of our team (@Mats Andren) and on the site of the organisers OK Ravinen.
2003-11-05 Last weekend almost the whole Team Silva came to Borlänge for a training camp. I was the organiser and they all stayed in my apartment. The focus was on technique, especially orienteering.
On Friday evening I prepared a short orienteering course on a map behind our house where we could test the new headlamps from Silva. On Saturday we drove to Gyllbergen (a natural reserve about 25km from Borlänge) to train orienteering again. The terrain up there is quite tough - hilly, with many marshes and heather slowing down the speed. This time it was even tougher - about 5 cm wet snow was lying on the ground and but the marshes were not frozen yet, so our feet were sinking into them and freezing despite the wet socks. I shoud get myself ready for a revenge at some of the next training camps....
On Saturday afternoon we spent some time in the climbing hall. The last training (on Sunday) was devoted to cycling technique - I asked one coach from the local cycling club for help us with that. First we practised to cycle in a pack on the roads, changing the positions in the pack fast, and then we tested the MTB-course. We got a lot of valuable advice about cycling in curves, downhill etc.
We spent quite a lot of time planning and discussing about the coming season. The pictures from our training camp will come soon.
I can also mention here that I got a chance to test the long blade skates for the first time (last week on Monday). It was a great fun and now I plan to buy my own skates and to start to train when the ice will get a bit thicker.
>> Old news