OLD NEWS >> December 2003
2003-12-29 I was asked to compete for the Swedish Team Reebok Adventure in Patagonia Expedition Race in Februari 2004 in Chile. It is going to be my first expedition race!
The description of the race from its site: Mixed teams of 4 persons, including at least one man and one woman competitor, will travel a distance over 500 km with minimal assistance on route. The fundamental disciplines will include: mountain biking, trekking, sea kayaking, orienteering, and rope activities. It is a race in the most southern tip of South America between southern latitudes 49º and 56º. It is an unspoilt territory, much of it is uninhabited with a great variety of landscapes and distinct climates. A place isolated from the rest of the world. The event will reach a southern latitude never reached before in an expedition race.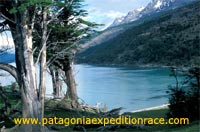 The race starts on February 15th and last day to finish is February 24th. We expect to be on the course about 5-6 days. The race entry fee is US$ 4.400 per team and prize money US$ 60.000 divided among the first 3 teams. Some world best teams are on the start list: Montrail (Australia, winners of Raid Gauloises 2003), Buff (Spain), Intersport (France), Team Subaru USA (USA) etc.
All the guys from our team are quite experienced (captain Mikael Nordström, Per Vestling and Per Henriksson) and we have good chances to make a good result. For me it means a lot of training during January, mostly with backpack, arranging all the equipment and food and preparing mentally for what it is going to be. I am in quite good shape now and feel ready to go for such an extreme race but what makes me worried a bit is the question from where I get the money (ca €1000) to pay the flight ticket to Chile.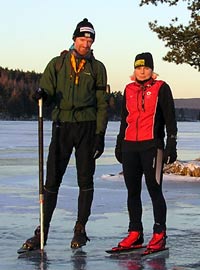 2003-12-23 Today, it is quite cold here (-12°C) ..... There are both positive and negative sides of the winter in Sweden and particulary Dalarna (the region where I live). The negative side is that certain sports become a bit hard to train - for example paddling and biking. Last week I did some biking on icy forest roads and kayak paddling during which we - at some places - had to break an ice-layer on the water surface. I didn't feel very fine during any of these trainings and had to force myself. And not talking about the freezing hands, feet etc. Another negative side is the darkness - now the night lasts from 3 p.m. to half past 8 a.m. But what doesn't kill you - makes you stonger. (Czech saying?).....
The great thing about winter here is the possibility to practise cross-country skiing and ice-skating. Ice-skating is a new sport for me. I bought my skates just one moth ago and today I could enjoy my third skating training on Ösjön (which is part of Runn - the big lake between Borlänge and Falun). During this summer I was paddling and swimming here a lot. We have taken some pictures and also shot 3 movie clips. Go to photos/movies to download the movie clips if you want to see me and my friends skating.
I try to get better overview of my training - I have made a summary of my training in Excel starting from week 45. Go to training if you want to check it out.

2003-12-03 No more races this year, just training. Last week I started the cross-country skiing season, but the snow has unfortunately already melted. I have been working on a new homepage - my club Domnarvets GoIF organises a new cross-country race in January and I promised to create a special site for it. Check the site of Bergebo Skimaraton where you can for example find some pictures from the area where I often train and also the coursemap (it is in Swedish).
>> Old news